Pastor Maldonado not 'untouchable' say Lotus
"He has to prove himself," Lotus CEO Matthew Carter tells Sky Sports
By William Esler
Last Updated: 01/06/15 12:54pm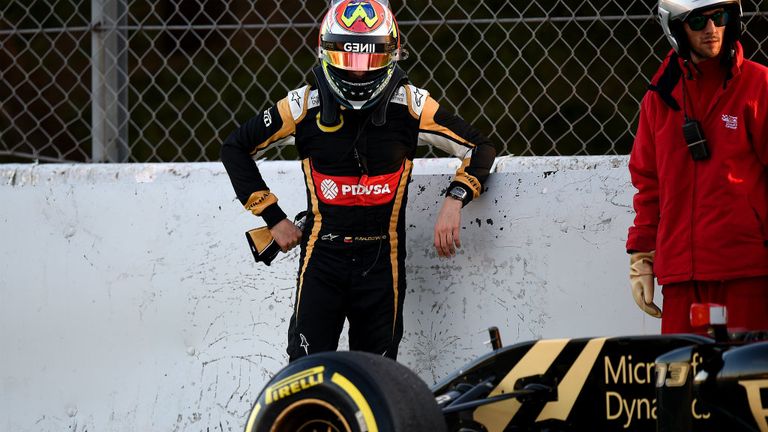 Lotus CEO Matthew Carter says Pastor Maldonado is not untouchable and that the Venezuelan has to prove himself to keep his seat with the team.
Maldonado brings significant sponsorship to the team, most notably from Venezuelan state-owned oil company PDVSA.
With that multi-million pound deal making up a large part of Lotus' budget, dropping Maldonado would leave a large hole in the team's financess. But Carter has scoffed at suggestions that Maldonado's seat will always be secure.
"He is not untouchable," Carter told Sky Sports on The F1 Show.
"He has to prove himself, he has to prove himself as a racing driver - and from our side, he is doing that. He out-qualified Romain [Grosjean] in Monaco and you don't do that around Monaco unless you are a good driver. He has been quick in all the races so far at different points, he has just got to string a good weekend together.
"Confidence builds and if he strings one weekend together, then it will follow and there is every chance he can do it in Canada. Canada should be very well suited to the car."
Maldonado's 2015
Australia - Grid: 10th; Race: Retired
Malaysia- Grid: 12th; Race: Retired
China - Grid: 11th; Race: Retired
Bahrain - Grid: 16th; Race: 15th
Spain - Grid: 12th; Race: Retired
Monaco - Grid: 8th; Race: Retired
Maldonado has retired from all but one race this season, but Carter insists that has not been the Venezuelan's fault.
"He has been very unlucky, but he is a quick racing driver," he added.
"We see him in the simulator week in, week out, we see what he can do and even in the races - he was quicker than Romain for big chunks of the race in Malaysia.
"I think the first few incidents it is very hard to blame Pastor for. He has been unlucky and it is really frustrating for us as we have thrown away a lot of points that we should have had."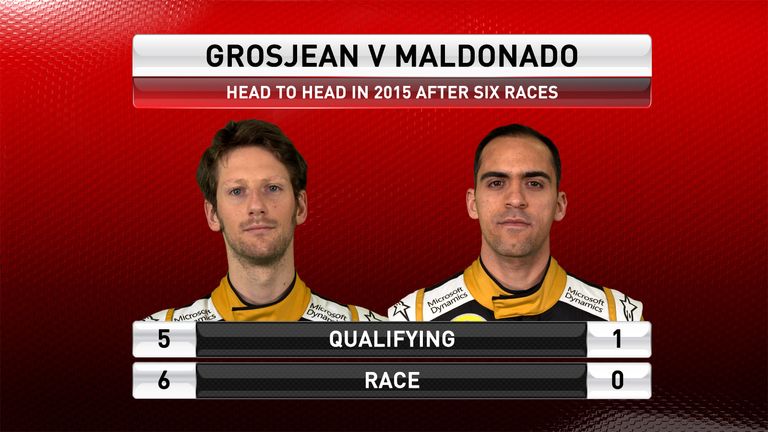 Lotus head to Canada sitting seventh in the constructors' championship, just one point ahead of Toro Rosso and one behind Force India. Carter, though, has eyes on a grander target.
"Coming off the back of a very difficult season last year our target is to finish fifth and I think looking at the championship that is where we could and should be," he said.
"There is an element of frustration within the team, because I think we probably should have scored a lot more points at the start of the season. But I still think fifth is within our grasp and possibly even fourth.
"Arguably we've been the fourth fastest car for the last few races, maybe not Monaco, but the few races before that. Hopefully we will get to fifth at least."
Having produced race-winning pace in 2013, Lotus endured a difficult 2014, with eighth place in Spain and Monaco their best results. A pair of seventh-place finishes for Grosjean has already bettered that and Carter attributes their improved pace to their new engine partner.
"A big part of it is down to the Mercedes power unit," he said.
"We as a team when we came out of 2013 into the new regulations, we lost a lot of people at the end of 2013 and last year was really about reorganising. I came in at the start of last year and it was about reorganising the team, reorganising the technical side of it, the aero department and we spent most of last year doing that.
"We switched our progress onto the E23 very early last year, so probably about this stage last year we had already started the design concept. We already knew this time last year that we would be working with Mercedes so we really threw a lot of development into the new car and it is kind of showing.
"The drivers are much happier this year, traction out of the corners, stability within the corners, everything that was bad last year seems to be better this year."
That improved traction could be key in Montreal heading onto the long-straights where the Mercedes engine should prove particularly advantageous.