F1 bosses tight-lipped on proposals to shake up race weekends
Shorter Saturday 'sprint' race mooted to enliven the weekend spectacle; Claire Williams describes the ideas for 2016 as "fascinating"
By James Galloway at Silverstone
Last Updated: 09/07/15 11:53am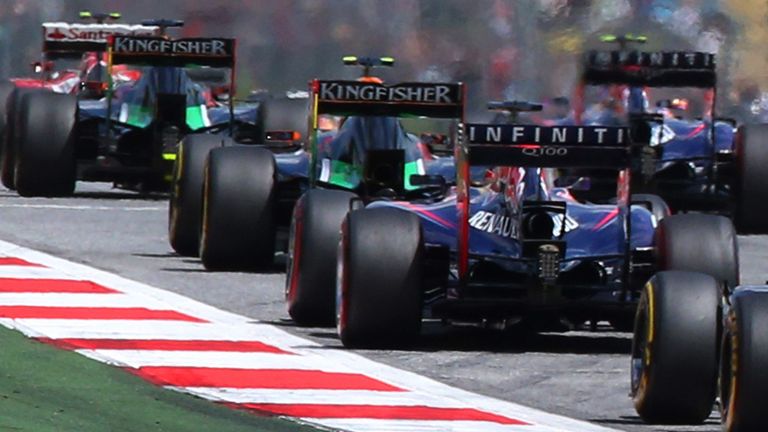 Potentially revolutionary proposals to revamp F1's race weekend format for 2016 remain in the "embryonic" stage, according to Claire Williams.
As part of a raft of proposals agreed by the Strategy Group at their latest meeting ahead of the British GP to improve F1 over the next two years, it was revealed that "several exciting and innovative changes to the qualifying and race weekend formats have also been discussed" and that such ideas were now being "evaluated by FIA and FOM for a 2016 introduction".
F1 bosses have remained tight-lipped on what exactly was discussed, but Sky Sports understands that the addition of a shorter 'sprint' race on Saturday is one of the proposals under consideration. Initial suggestions at Silverstone have suggested that an extra race could involve third drivers or even race drivers.
Claire Williams, whose team are one of five permanent members of the Strategy Group, described the initial ideas as "fascinating", but refused to divulge details at this stage.
"None of us want to make the mistake where we bring anything out that doesn't work. So we've got to analyse stuff," the Williams deputy team principal told Sky Sports F1.
"The fascinating one is the race weekend format. I can't go into detail – I wish I could – but I like my job, so I'm not going to."
Williams added in Friday's team bosses' press conference: "The ideas that we are considering are embryonic and we have to do a full analysis."
Red Bull team principal Christian Horner similarly gave little away, but did admit that "anything's possible" in regards to a Saturday sprint race.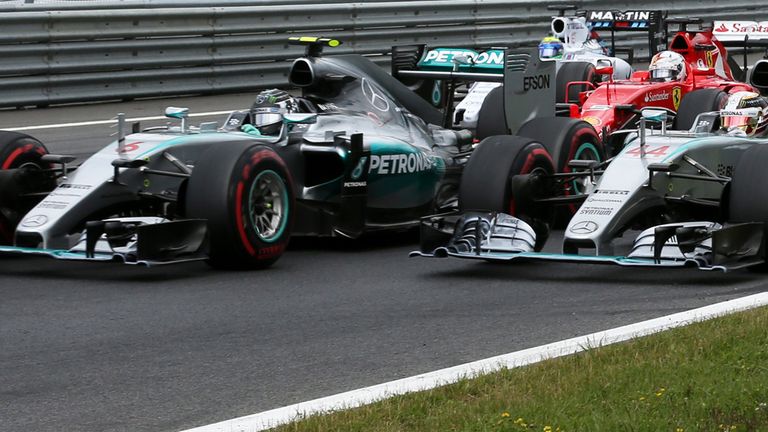 When the idea of a Saturday sprint event was put to McLaren's Fernando Alonso, meanwhile, the Spaniard told Sky Sports News HQ: "I think we need to wait and see what is the final decision. At the moment there's only rumours, so we'll see what comes out of the decisions and we will adapt to anything."
Team-mate Jenson Button added: "I welcome changes. I've seen most of the ideas and we need it to be fair – sooner rather than later. I look forward to them."
Multiple race formats have long been commonplace in the junior formula, with GP2 staging shorter 'sprint' and longer 'feature' races since its inception in 2005. The annual Macau F3 Grand Prix features a qualifying race on Saturday which sets the grid for a longer race on Sunday.
The GP2 sprint race also features reverse grids but Horner said such an idea for F1 was not discussed by the Strategy Group. Indeed, any such move would probably be ill-advised given reverse grids received a lukewarm response in the GPDA's recent global fan survey.
Amid falling attendances at some grands prix, F1's three-day race weekend format has come under increasing scrutiny in recent years, particularly concerning the value and entertainment provided by the two 90-minute practice sessions which are held on Friday.
So what might the changes entail? Simon Lazenby put some quick-fire questions to a tight-lipped Christian Horner on The F1 Show...
Saturday sprint race?
"Anything's possible."
Points for qualifying?
"Not discussed."
Reverse grid a la GP2?
"No."
NASCAR-style play-offs?
"Not really."