Nico Rosberg inspired by critical comments from Lewis Hamilton
"The things Lewis said after Austin gave me even more motivation to come back and beat him," Rosberg tells Sky Sports F1
By William Esler
Last Updated: 17/11/15 10:21am
Nico Rosberg has told Sky Sports F1 he was inspired to beat Mercedes team-mate Lewis Hamilton by the world champion's recent public barbs.
Tensions have simmered between the pair all season and visibly boiled over in the pre-podium room after the United States GP when Hamilton tossed the second-place Pirelli cap into Rosberg's lap and the German immediately launched it back at his team-mate.
Since then, Rosberg has claimed back-to-back victories - winning in Mexico and Brazil. 
"When I got to Mexico the new motivation was there. Mexico City, a great new race track, awesome car, and some of the things Lewis said after Austin gave me even more motivation to come back and beat him," Rosberg told Sky Sports F1.
"So I was raring to go again. Austin was very tough, because of losing the championship. It was painful."
Quite what comments Rosberg is referring to remains unknown. Prior to the cap-throwing incident, Rosberg had been aggravated by what he felt was overly robust driving from Hamilton into the first corner in Austin.
The pair made contact and the clash came just two races after the Japanese GP where Hamilton ran Rosberg off the track at Turn Two.
Ahead of the following race in Mexico, the world champion told Sky Sports F1 he felt there was no need for clear-the-air talks, but suggested Mercedes would "try to dilute" "whatever emotions" Nico Rosberg was feeling.
"Suzuka was hard, but on the limit of being okay. Austin was one step too far and it was handled by the team and then we moved on," Rosberg said.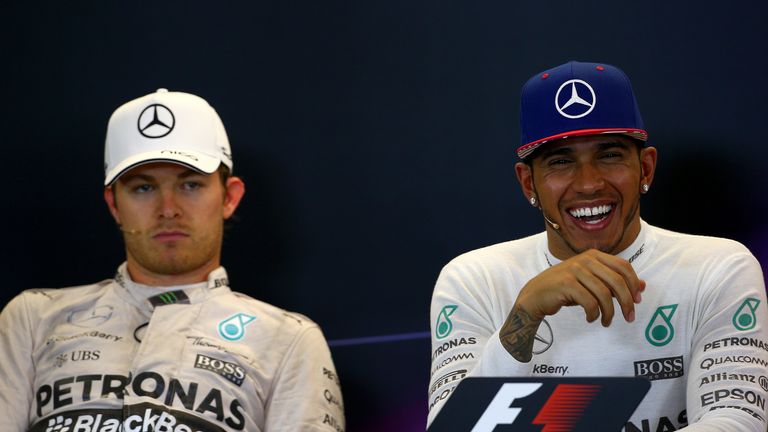 "You also need to put these things behind you, it is not good to dwell on things, so it was a thing of the past before Mexico. And then full gas and the Finn inside me came out, the sisu, and I am glad I managed to win in Mexico."
If Rosberg was taking motivation from Hamilton's criticisms he was given another dose following his victory in Mexico. The world champion couldn't resist a cheeky dig, highlighting a lack of wind in Mexico City after a 'gust' had been blamed for Rosberg's race-losing error in the USA.
At Interlagos, the German took pole position and victory and now feels ready for another title assault.
"I am definitely ready to fight for it again. I am raring to go, gutted about this year and how I lost it and delighted there is another great opportunity coming again next year," he said.
"We need to keep an eye on our rivals Ferrari, they are going to be a threat, I hope they don't improve too much and we are still able to dominate and then I'm very sure it will be a great battle again between Lewis and I."
Don't miss the F1 Midweek Report for analysis of the Brazilian GP and all the latest F1 news. NBC's F1 reporter Will Buxton and F1 journalist Peter Windsor join Natalie Pinkham on Sky Sports F1 at 8:30pm on Wednesday.