Lewis Hamilton denies he has eased up since clinching 2015 world title
"I came here with the same fire and desire to win this race as I have done the whole year," insists Hamilton after Brazil defeat to Rosberg
By James Galloway
Last Updated: 16/11/15 10:02am
Lewis Hamilton has dismissed claims he is "not trying" in the final races of 2015 after wrapping up his third world title last month.
Nico Rosberg's victory in Sunday's Brazilian GP means Hamilton has now been beaten to pole position and the race win by his Mercedes team-mate in both races since realising his career dream of matching his idol Ayrton Senna's haul of three Drivers' Championships
After his qualifying defeat to Rosberg on Saturday at Interlagos - the fifth time in succession the German had qualified at the head of the grid - Hamilton shrugged off the significance of his team-mate's pole streak.
"I've had the most poles of the year and I've won the World Championship so there's nothing really to read into it," said Hamilton, who also remarked my "main job is done this year".
However, after finishing second to Rosberg again in the race in Brazil, Hamilton took the opportunity to put on record his thoughts on views that he had consciously eased up since Austin.
"It's funny how journalists take one little thing and run off with it. It's not that by me saying my job's done for the year that I'm not trying - I came here with the same fire and desire to win this race as I have done the whole year long," Hamilton told Sky Sports F1.
"Trust me, I did everything that was possibly in my ability today. I exhausted every skill and bit that I had out there to try and get by, but I just couldn't.
"But Nico did a great job, we move forward, and we've got the last race so still another shot."
Hamilton's determination to get ahead of Rosberg was underlined by his request to move onto a different strategy to his team-mate midway through the race, a call denied by Mercedes' pit wall in the interests of fairness.
Earlier in the week the 30-year-old's arrival in Sao Paulo had been delayed by a day owing to a fever - which Hamilton has since admitted was brought on by a hectic schedule since the US GP three weeks ago - and a minor car accident on the streets of Monaco, where he lives.
One race now remains in Hamilton's third title-winning campaign - Abu Dhabi, where the Mercedes driver clinched his second crown with a race win last year.
And although the tables may have recently turned in the qualifying head-to-head at Mercedes, Hamilton reckons another Saturday P2 at the season-finale wouldn't be as restrictive as Interlagos.
"I started second last year and got a good start, so that's a track where there is not a big difference between the sides of the grid," he added. "So maybe there's an opportunity there."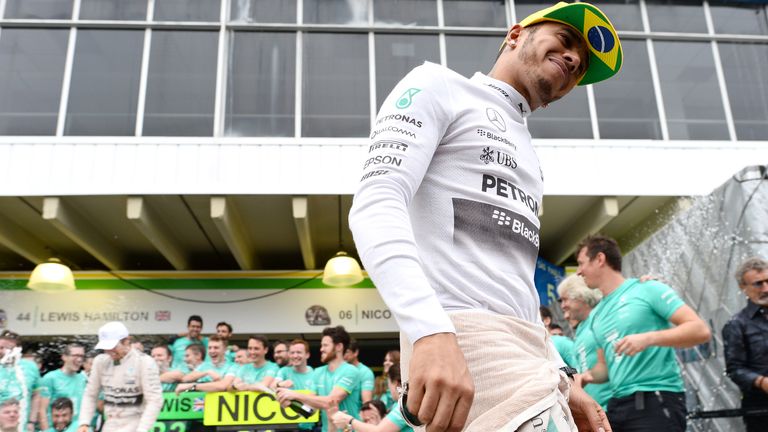 Hamilton can match his career-best haul of 11 wins from last season by winning in Abu Dhabi on November 29, while another visit to the podium would tie the all-time record for 17 top-three finishes in a season jointly held by Michael Schumacher and Sebastian Vettel.
Don't miss the F1 Midweek Report for analysis of the Brazilian GP and all the latest F1 news. NBC's F1 reporter Will Buxton and journalist Peter Windsor join Natalie Pinkham on Sky Sports F1 at 8:30pm on Wednesday.