Mercedes boss Ross Brawn laughs off claims he's set to buy Toto Wolff's Williams shares
Team Principal says he's only thinking about staying at Merc
Last Updated: 20/09/13 8:57pm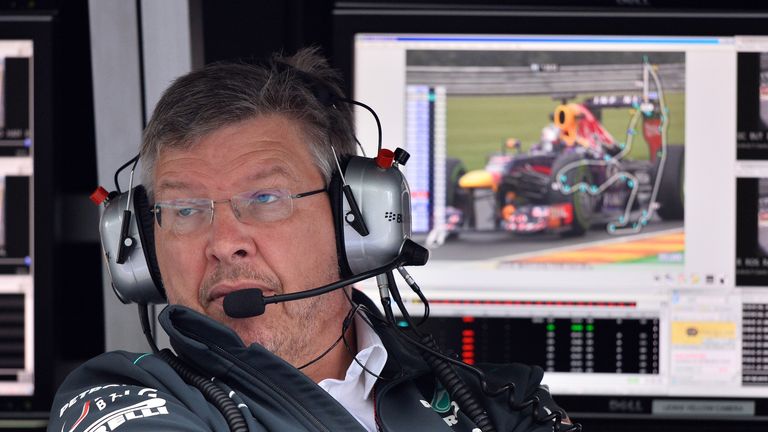 While paddock gossip over the eventual composition of next season's driver line-up has ramped up to frenzied proportions in recent weeks, rumours over potential moves for management and technical personnel among teams have also been rife.
One such piece of speculation that emerged at the Italian GP earlier this month suggested Mercedes Team Principal Brawn was a potential buyer of the shares still held in Williams by Toto Wolff, the Brackley team's Executive Director who joined the outfit from Williams at the start of the year.
Uncertainty over Brawn's longer-term position at the helm of Mercedes' F1 operation has swirled for months following the arrival of Paddy Lowe at the team, but asked directly by Ted Kravitz on Sky Sports' The F1 Show if he was staying as Team Principal into next year, the Englishman replied: "I'm definitely not buying shares in Williams!
"I'm planning to be here next year so there's nothing else happening, I can guarantee it."
Brawn has spoken in the past about his excitement at being involved in the challenges presented by 2014's dramatic new engine regulations, which will see the current V8 power units replaced by 1.6-litre turbocharged V6s and enhanced energy-recovery systems.
Mercedes are thought set to be particularly well placed with the development of their new engine, but while pleased with ongoing progress on the 2014 package, Brawn insists they simply don't yet know how they will stack up against the competition.
"Genuinely we don't know where we will be next year," he said.
"I can see the car progressing well, I can see the engine progressing well. I can see the unity in the team, both engine and chassis, we just don't have a reference.
"Sometimes when the regulations change you can pick up references, but we've got no idea where anyone else is at the moment. We think we're okay but we won't know until we go racing."