Ross Brawn has downplayed Lewis Hamilton's tetchy radio messages
Team Principal says Mercedes still learning to work with Brit
By William Esler
Last Updated: 20/11/13 2:14pm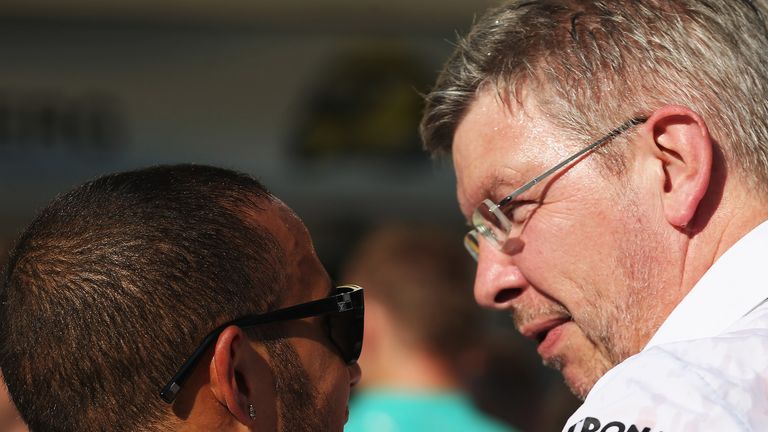 When offered information about the tyres early in the race Hamilton asked to be left alone. Later, however, he demanded more information from his engineer, stating: "You need to give me some feedback, man, tyres, temperatures."
Brawn, though, says despite the apparent public aggravation between the British driver and his engineer there are no underlying problems and the team are simply still learning to work with the 28-year-old.
"It's not an issue, quite frankly," Brawn told The Guardian. "We are learning to calibrate our input to Lewis and sometimes he jives with us a bit, saying it's too much, and two seconds later saying it's not enough.
"From some drivers you won't hear anything, so when you do, you pay a lot of attention. With other drivers, there's a bit more rapport going on.
"We are just getting used to working with Lewis. I am sure there are different levels of frustration with him. The first level, you just wade through. It's part of building a relationship. It's not problematic.
"You have to realise there's a massive amount of adrenalin for the guys and energy going on and huge battles going on. Lewis was trying to balance preserving the tyres and keeping a good distance so he couldn't be attacked by anyone behind.
"He did a superb job on Sunday with the car we had and we are trying to give him information that will help him and sometimes we overload him and say too much. It's not a problem."
Ahead of this weekend's Brazilian Grand Prix, Hamilton sits third in the Drivers' Championship on 187 points, while Mercedes are second in the Constructors' Championship, just 15 points ahead of Ferrari.