Mercedes admit they believe they are ahead after blitzing the field in Bahrain
Rosberg fastest on final day at Bahrain as Red Bull woes continue
By Pete Gill
Last Updated: 24/02/14 8:44am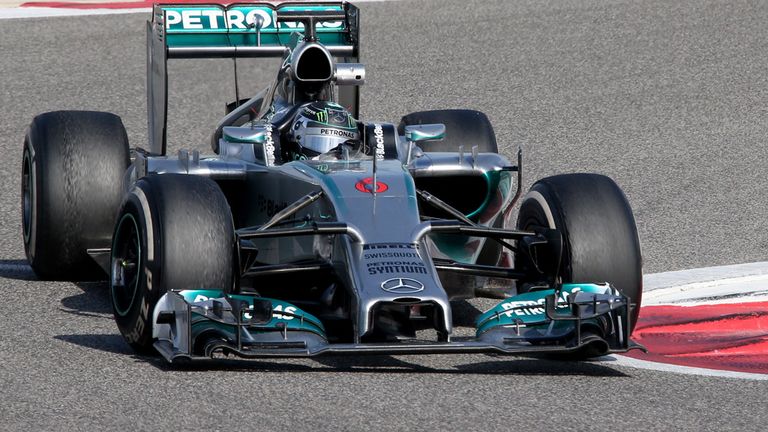 Since the end of Day One of the first winter test at Jerez, a Mercedes team has topped every session, with the works outfit - driven by Lewis Hamilton and Nico Rosberg - dominating this week's event at Bahrain in the ultra-impressive W05.
After Hamilton topped Friday's timesheets ahead of McLaren and Williams, Rosberg went quicker still on the fourth and final day as he set a qualy-style lap time over one and a half seconds faster than any other car managed.
Although Hamilton scoffed at Mercedes being hailed as favourites by Christian Horner prior to the Red Bull boss's early departure from the test, it's a status of pre-eminence that few will dispute following the Silver Arrows' frontrunning displays this winter.
Admitting that he would mark the team's week in Bahrain as a ten-out-of-ten effort, Lowe told Sky Sports F1: "The strongest teams out there are the Mercedes-powered teams. The Ferrari is also looking strong, so those are the people we are watching and trying to measure against.
"In this business, even after P1 and P2 on a Friday you can't predict what the grid will look like, and so there are a lot of uncertainties. But we definitely feel we are quick and in contention to do very well in Melbourne if we can keep pressing further updates to the car and making sure it is reliable."
Reliability does appear to be the only chink in Mercedes' armour at present. A hydraulics leak prevented Hamilton from attempting a race simulation on Friday and Rosberg's car broke down late on Saturday two laps after the W05 had completed a full race stint.
"There is still some way to go," said Rosberg. "We need to be 100% bullet-proof by the time we reach Melbourne."
Mercedes have completed more laps than any other team this winter with a combined total of 624 for Hamilton and Rosberg over the eight days. By stark contrast, World Champions Red Bull have managed just 137. The RB10 has been tormented by a myriad of problems since its launch and the team's fastest time at Bahrain was over five seconds slower than Rosberg's benchmark time. Equally pertinently, the longest stint the car managed before breaking down was a mere 12 laps.
One team boss has already privately expressed his belief that the World Champions will launch a 'B-spec' car in time for May's Spanish GP.
Which seemingly leaves the stage set for Mercedes to steal an early - and perhaps even definitive - march on the rest of the field when the sport's new turbo era dawns next month.
"In Formula 1, you have to enjoy the good days when things go well. We have had a good week, it's gone better than we expected, and the drivers are very happy with the performance of the car and we have to keep building on that," added Lowe.
The third and final test of the winter begins in Bahrain on Thursday, with the focus of attention set to be split equally between shock at the extent of Red Bull's woes and awe at the power of the Mercedes teams.
Fastest laps of Bahrain Test One
1. Nico Rosberg, Mercedes, 1:33.283, New Soft tyres, Day Four.
2. Lewis Hamilton, Mercedes, 1:34.263, New soft tyres, Day Three.
3. Kevin Magnussen, McLaren, 1:34.910, New supersoft tyres, Day Two.
4. Jenson Button, McLaren, 1:34.957, New soft tyres, Day Four.
5. Nico Hulkenberg, Force India, 1:36.445, New soft tyres, Day Two.
6. Fernando Alonso, Ferrari, 1:36.516, Used soft tyres, Day Two.
7. Kimi Raikkonen, Ferrari, 1:36.718, New soft tyres, Day Four.
8. Felipe Massa, Williams, 1:37.066, New soft tyres, Day Three.
9. Esteban Gutierrez, Sauber, 1:37.180, Unknown tyre compound, Day Three
10. Valtteri Bottas, Williams, 1:37.328, Unknown tyre compound, Day Two.
The third and final pre-season test starts on Thursday morning in Bahrain. The Sky Sports F1 Online team will be providing live commentary from dawn until dusk on all four days, with live updates from trackside also on Sky Sports News.