Kevin Magnussen's Renault catches fire in the pitlane in Malaysia GP P1
Last Updated: 30/09/16 10:10am
Practice 1 at the Malaysia GP had to be red flagged after Kevin Magnussen's Renault dramatically burst into flames in the pitlane.
The first session of the weekend was only seven minutes old when the Dane was forced to dramatically jump out of the RS16 as a fire engulfed the airbox, with mechanics quickly on the scene with extinguishers.
With fuel pouring out, the car still sporadically caught ablaze for the next 10 minutes but thankfully nobody was injured as the pitlane was coloured white from the clean-up work.
"We had a fuel leak from a breather," Renault Technical Director Nick Chester told Sky Sports F1.
"We were running the tank full and we were running some experimental parts in preparation for Mexico, so it was a different setup to the other car. We are looking at what happened."
Magnussen had just returned from two installation laps, with the RS16 just about to be pushed back into the pit lane by mechanics before he got the call to jump out. Magnussen was unhurt during the incident, and returned to the track in P2.
An unruffled Magnussen later told reporters: "Everything worked well on the car on the in lap, I just saw the smoke and got out.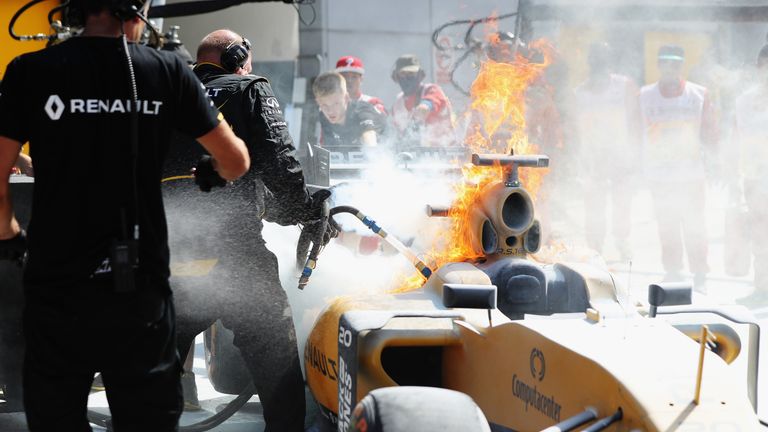 "The fuel kept being pumped out and obviously it caught fire with the engine cover being hot."
Magnussen returned to complete 19 laps, finishing 19th fastest, but conceded the time lost in the opening session had proved more disadvantageous than normal due to the changes to the surface at Sepang for this year.
"The track is more different than I expected - it changed quite a lot actually - and it was quite valuable laps in P1," he added. "But we'll still be able to catch up and be on the pace."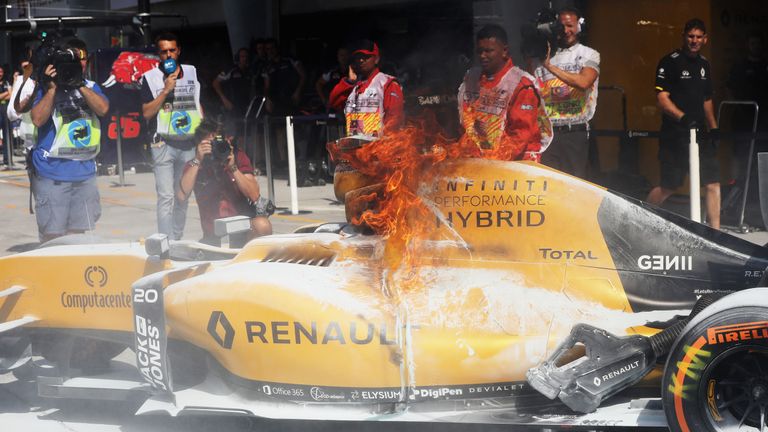 Watch the full clips by clicking play on the videos above.