Force India offer Nico Hulkenberg two-year deal as fears grow over German's F1 future
Midfield line-ups unsettled due to acute financial concerns
By Pete Gill
Last Updated: 04/11/13 8:28am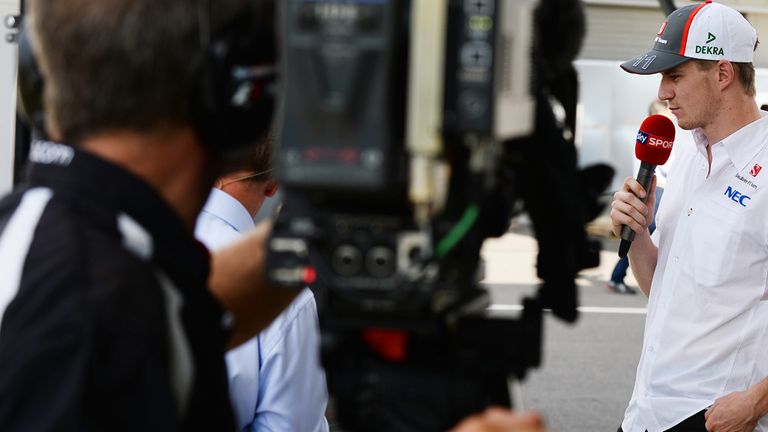 Having been overlooked by McLaren as a potential replacement for Sergio Perez due to concerns about his height and weight proving a critical handicap next year, when the sport will be governed by a dramatic change in the regulations, it is believed Hulkenberg has fallen behind Maldonado in their head-to-head contest to replace the Ferrari-bound Kimi Raikkonen at Lotus.
"The belief in the Hulkenberg camp is very much that the Maldonado deal has been done," reported David Croft during Sky F1's coverage of Friday practice for the Abu Dhabi GP, amid claims the heavily-backed South American may have penned a pre-contract agreement with Lotus this week.
If true, the apparent snub - bound to be seen as financially-motivated despite Maldonado's status as a race winner following his victory in last year's Spanish GP - would seemingly leave the luckless Hulkenberg forced between choosing to remain at Sauber or returning to Force India a mere 12 months after quitting the team.
Another less edifying and utterly disconcerting outcome is possible, with Hulkenberg's future in the sport far from secure despite his reputation for being a prodigious talent who deserves a seat amongst the sport's elite.
"What happens with Maldonado and that Lotus seat will be a bellwether for what is going on in Formula 1," Martin Brundle told Sky Sports News. "There are only five teams which are financially secure and the rest of them are all struggling so they are following the money and not the talent.
"I spoke to Hulkenberg's manager this morning and he is terrified that Hulkenberg will end up with nowhere to drive next year which is utterly, utterly ridiculous. Unfortunately, the midfield need money and he doesn't bring money, just talent and speed."
Yet while it is by no means unfeasible that the sport's financial strife could result in Hulkenberg being jettisoned entirely, it is understood that Force India are keen to tie the German down to a two-year deal. The desire for a relative long-term deal is understandable: if Hulkenberg does depart Sauber, he will have failed to have remained at any of his three teams in F1 for more than twelve months. It's less clear whether Force India are currently minded to re-hire Hulkenberg at the expense of Paul di Resta or Adrian Sutil.
With so much uncertainty in the market, the Maldonado camp are also believed to have taken the understandable protection of covering all bases.
Sky F1 columnist Mark Hughes revealed on Thursday that talks have been held between Maldonado's backers and Sauber, a disclosure which would seemingly indicate that Maldonado is still not certain he will replace Raikkonen. While there's little dispute that the Venezuelan is currently ahead of Hulkenberg in the pecking order, their roles will surely be reversed if Lotus can finalise fresh backing - in particular, the ongoing difficulties Quantum Motorsports are having in acquiring a 35 per cent stake in the team.
In any case, the prospect of Maldonado staying on at Williams has receded dramatically in recent days, with Felipe Massa now widely expected to take his place alongside Valtteri Bottas.