Heikki Kovalainen seals F1 race return with Lotus for final two races of 2013 season
Caterham release Finn to take over Kimi Raikkonen's car
By James Galloway
Last Updated: 18/11/13 4:49pm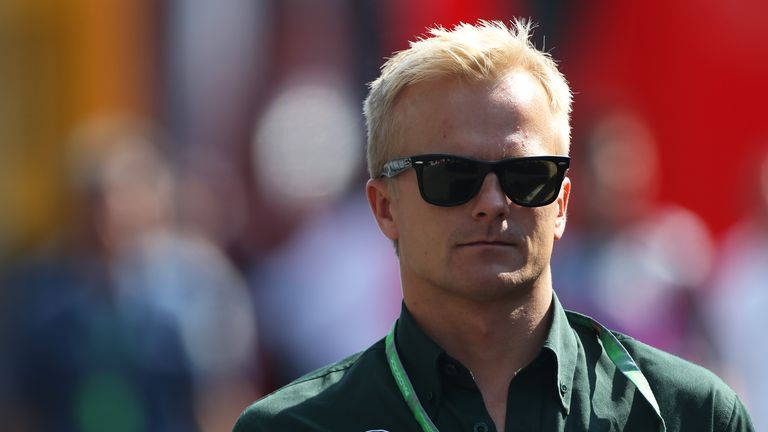 After Nico Hulkenberg's manager confirmed on Wednesday that his client had turned down the opportunity to switch from Sauber for the U.S. and Brazilian GPs, Kovalainen emerged as the favourite to replace Raikkonen following his Finnish countryman's withdrawal from the races to undergo back surgery.
Although Kovalainen hasn't competed in an F1 race since the end of 2012 when he was dropped for financial reasons by Caterham, the 32-year-old had returned to the cockpit for the team in a development driver capacity from May's Spanish GP and competed in six Friday practice sessions.
Lotus have now successfully negotiated the 32-year-old's release from his duties at Caterham, with Kovalainen heading for a race return with the Leafield-based outfit's good wishes.
"We were asked by Lotus F1 Team if we could release Heikki from his contract with us for the final two races of 2013 and we are pleased that we can help to give him the chance to race again in 2013," Caterham Team Principal Cyril Abiteboul said.
"He is a valued member of the Caterham family and we're sure that he'll do a good job in the USA and Brazil."
Before flying out to Austin, Kovalainen visited Lotus's Enstone factory on Wednesday for a seat fitting in the E21 he will drive for the first time this weekend. However, the Finn is at least familiar with the team, having made his F1 debut with them in 2007, and served as a test driver over the previous three years, when they were known as Renault.
While aware it will be a challenge to get immediately up to speed in an unfamiliar car in Austin this weekend, Kovalainen said he was relishing the prospect to drive a front-running challenger.
"It is a fantastic opportunity for me to join Lotus F1 Team for the final two races of 2013," the Finn, a veteran of 109 grands prix, said.
"We've seen this year that the E21 is a car which can win races and finish on the podium, so I will be pushing hard for the best results possible.
"Jumping into a car so late in the year when you have not been competing in the races all season will be a challenge, but I know the team at Enstone well so I have no concerns about getting up to speed.
"This is a great opportunity for me, so I would like to thank Tony Fernandes and Caterham F1 Team for allowing me to take advantage of it."
For their part Lotus said the decision to plump for Kovalainen over their third driver Davide Valsecchi owed to the Finn's greater F1 experience - something they believe is likely to be invaluable in their battle with Ferrari for third place in the Constructors' Championship.
"Obviously we had to move quickly following the news of Kimi's non-participation in the final two races of this season, and we found ourselves facing a difficult decision in terms of who should take the wheel in Austin and São Paulo," Lotus Team Principal Eric Boullier explained.
"On the one hand we had our reserve driver Davide Valsecchi - who is a talented young driver that has shown a great deal of promise - and on the other we had the opportunity to bring in a seasoned Formula 1 competitor in Heikki.
"Whilst we have every faith in Davide's abilities, we are obviously involved in a tight Constructors' Championship battle, so it was decided that the experience Heikki could bring to the team would be invaluable as we aim to finish the year in the best position possible.
"We must thank Tony Fernandes and Caterham F1 Team for their professional conduct in allowing Heikki to join us for the final races of this season."