Spanish GP: Ferrari bringing engine upgrade forward to fight Mercedes
Ferrari targeting 'increased performance' with new engine, debuting two races earlier than planned; Team also have chassis updates
By Matt Morlidge
Last Updated: 07/05/19 3:56pm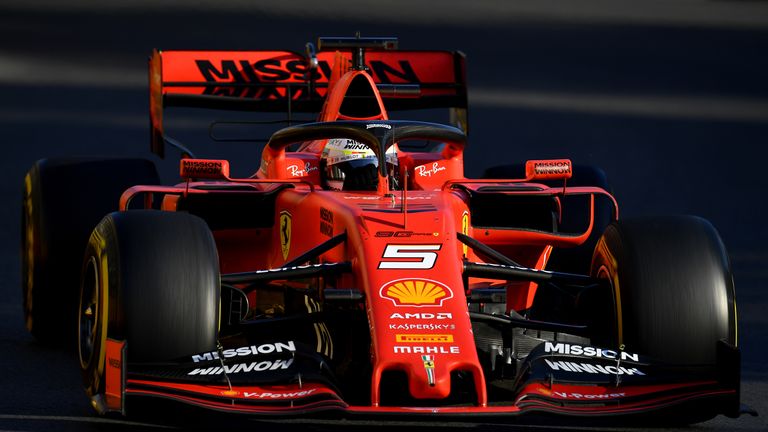 Ferrari will introduce their first engine upgrade of the F1 2019 season at this weekend's Spanish GP, bringing the new spec forward as they look to chase down early runaway leaders Mercedes.
The Scuderia were originally intending on debuting their second power unit at next months Canadian GP but after Mercedes won the opening four rounds, Ferrari admit they are playing "catch up".
"We will have a new power unit that we are introducing ahead of schedule, as the second specification was due to be brought to Canada," team boss Mattia Binotto said as he confirmed the two-race jump.
Ferrari join Honda in bringing an engine upgrade earlier than expected, but while the Japanese manufacturer were focused on reliability for Red Bull and Toro Rosso at the Azerbaijan GP, the Scuderia, who also have a new race fuel upgrade, say they are targeting "increased performance".
"It's only down to a big team effort with everyone pushing hard to make up ground that we have been able to bring these developments forward," Binotto added.
Ferrari's 'aerodynamic developments'
The Spanish GP marks the start of F1's 'European season', while it is also traditionally a hot-bed for car upgrades - and Ferrari are bringing more updates to their SF90 chassis.
The Maranello team debuted new parts in Baku, but while they were quick most of the weekend, Mercedes locked out the top two positions in qualifying and the race, meaning Ferrari now trail their rivals by 74 points in the championship.
"We can expect to see a step up in performance from our competitors," Binotto said, previewing the Barcelona weekend.
"We are currently behind in the championship and we have to catch up, which we know means that our development work will be the key to this season.
"Having brought a new aerodynamic package to Baku, we will also bring some developments in this area to Barcelona."
A return to testing form?
Ferrari head to Barcelona with renewed optimism, not least because on their last visit to the circuit - over two weeks at pre-season testing - they appeared to have the fastest and most complete package.
"I have good memories from February's testing, even if the conditions were very different back then, with very low air and track temperatures," Charles Leclerc said.
"All the same, the Barcelona-Catalunya circuit is a benchmark, because if you go well here, you know you have a competitive car."
Sebastian Vettel added: "I've always had very positive weekends in Barcelona with Ferrari, even if we've never won. I hope this might be the moment to put that right."
Watch the Spanish GP live only on Sky Sports F1 this weekend. Sunday's race starts at 2.10pm. Sky Sports is the home of live and exclusive F1. Find out more here to watch the 2019 season live