Fernando Alonso describes former foe Lewis Hamilton as the strongest driver in F1
Spaniard predicts victories for new Mercedes man in 2013
By Pete Gill
Last Updated: 17/01/13 5:06pm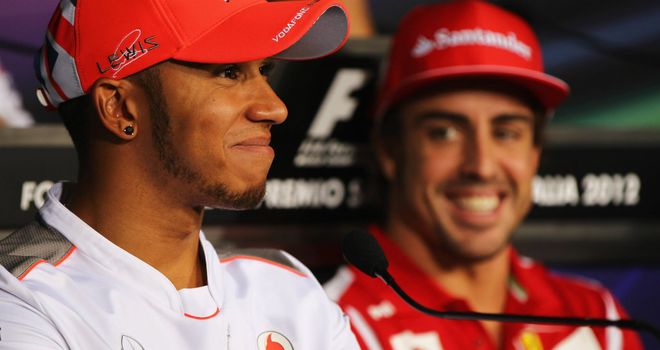 Although the pair endured a tempestuous and ultimately destructive solitary season together in 2007 as team-mates at McLaren, the relationship between Alonso and Hamilton has thawed of late to such extent that they have formed something of mutual-appreciation society in which they regularly endorse the other's capabilities.
Speaking to the assembled press corps at Ferrari's pre-season media event in the Italian mountains, Alonso once again heaped praise on his former foe and echoed the recent prediction of Sky Sports F1 pundit Martin Brundle that Hamilton will be a race winner in 2013 despite taking the gamble of leaving McLaren for Mercedes.
"Why do I say Hamilton is the strongest? Because it's what I think, it's my personal opinion and there is nothing political in that," said Alonso. "Lewis has always won races ever since he has been in Formula 1, even in years like 2009, when he had started the season with a car that was two seconds off the quickest.
"When you look at what happens on track, you are well aware of what he is doing, that's a fact. Last year, Rosberg won in China, therefore I expect that this year, Lewis in a Mercedes can win more than one race."
Although the Spaniard also voiced his conviction that McLaren will remain a formidable opponent even in the wake of Hamilton's departure, his lavish description of his former team-mate will inevitably be interpreted as a thinly-veiled dig at Vettel with the German's critics frequently attributing the bulk of his record-breaking success to the genius designs of Adrian Newey.
Indeed, after struggling to keep pace with the Red Bulls at October's Indian GP, Alonso himself remarked in rather pointed fashion that "we are fighting against a Newey car [and] not only Sebastian."
Nor has Hamilton been shy in voicing his admiration of Alonso, whilst also apparently talking down Vettel's achievements. "Fernando, for me, is more accurate," the Englishman told The Daily Telegraph in November. "He hits all the apexes Sebastian misses four apexes on a single lap and still goes quickest.
"Fernando didn't have a great car at the start of the year and he still managed to score some great, great points. He's been massively consistent. That was the consistency I wanted to get, but he toppled mine and just kept on going and going."