Michael Schumacher says Alonso & Raikkonen could prove 'explosive' pairing at Ferrari
Ferrari legend says fans will welcome "exciting" 2014 line-up
By James Galloway
Last Updated: 13/09/13 3:07pm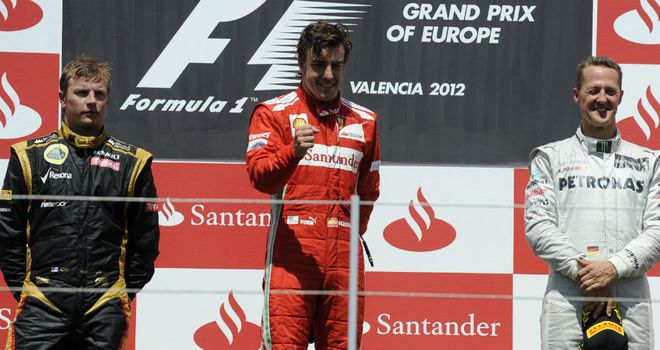 The seven-times World Champion, who won five of his titles at Maranello before retiring for the first time and being replaced by Raikkonen, was widely viewed as having clear priority status over his team-mates during his record-breaking decade at the team, a driver policy effectively re-employed since Alonso joined Ferrari in 2010.
However, the Scuderia's decision to re-sign 2007 World Champion Raikkonen alongside Alonso for next season is being viewed as clear - and dramatic - change in policy at Maranello.
Schumacher certainly feels there could be fireworks.
"Ferrari with Fernando and Kimi, that sounds like an explosive mixture," Schumacher told Germany's Bild newspaper.
Both fans and international media have already warmly welcomed the prospect of two of F1's biggest names and talents going up against each other in the same team, with Ferrari's 2014 pairing to be their first all-World Champion line-up since Alberto Ascari and Giuseppe Farina in 1953.
Schumacher, who went up against both Raikkonen and Alonso for world titles while driving for Ferrari, acknowledged it was going to be thrilling to watch their battle for supremacy unfold, and that the combination would prove a formidable one for the team's rivals to face.
"For motorsport fans it [the pairing] will certainly be a sensation, and for the competition tough to crack," the 44-year-old predicted.
"It will be exciting to watch."