Christian Horner warns the F1 grid that momentum is building at Red Bull
"We've been quite good with regulation changes before," says team principal
By William Esler
Last Updated: 02/02/17 11:16am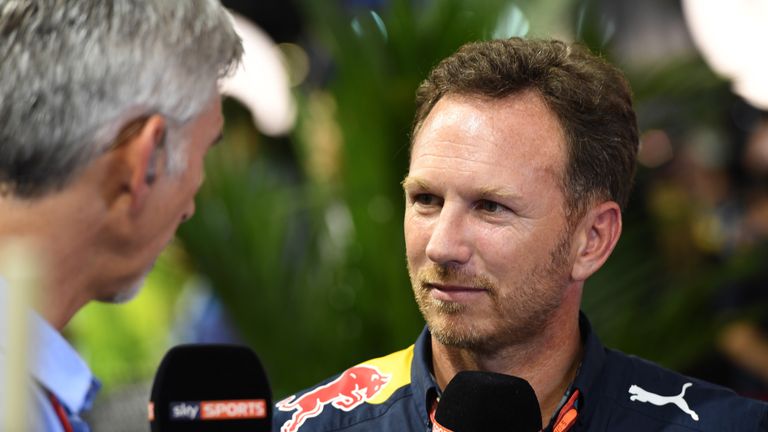 Christian Horner believes momentum is building at Red Bull and hopes they can challenge Mercedes for the F1 titles in 2017.
After four back-to-back championship doubles, Red Bull have struggled since the V6 hybrid engines were introduced in 2014 with suppliers Renault lagging behind Mercedes and Ferrari.
However, after a tempestuous 2015, the team returned to winning ways in 2016 as they emerged as the closest challenger to the Silver Arrows.
"It feels like we are building momentum. 2016 has been all about building that momentum and there is a feeling of real optimism within the team that if we can nudge a bit closer on the engine…chassis we are hoping to come up with a good car to give our guys the tools to fight Mercedes next year," Horner told Sky Sports F1.
And with the regulations changing this year, placing a great emphasis on aerodynamics, Horner is hopeful of becoming F1's lead team once again.
"2017 is a clean sheet of paper and no one knows where the opposition are. We've been quite good with regulation changes before, but nothing can be taken for granted," he added.
"We are hoping similar progress can be made with the engine and if that happens I think we have two very capable drivers of taking the fight to Mercedes.
"Mercedes will be the favourites heading into next year, but if we can narrow that gap down and put them under a bit of pressure it would be great for everyone."
Horner expects to see F1 go back to the future in 2017, with the cars set to test the drivers' strength once again.
"The car is more physical, it is quite a bit faster and it is getting back to being a man's car like Brundle and Herbert drove in their day," Horner said.
"They look aggressive, they are wider, they produce more downforce - it is going to sort the men out from the boys. High-speed corners like Turn Three at Barcelona… I think these cars are going to be really impressive."