Sky Sports F1 exclusive: Williams FW41 and Robert Kubica on track
Pole takes 2018 Williams car for pre-testing shakedown
By Pete Gill and Tommy Herz
Last Updated: 13/12/18 4:36pm
Williams have put their 2018 car on track for the first time with Robert Kubica behind the wheel of the FW41.
The shakedown run was held as part of a filming day for the team in Spain on Sunday, 24 hours before the start of F1 winter testing.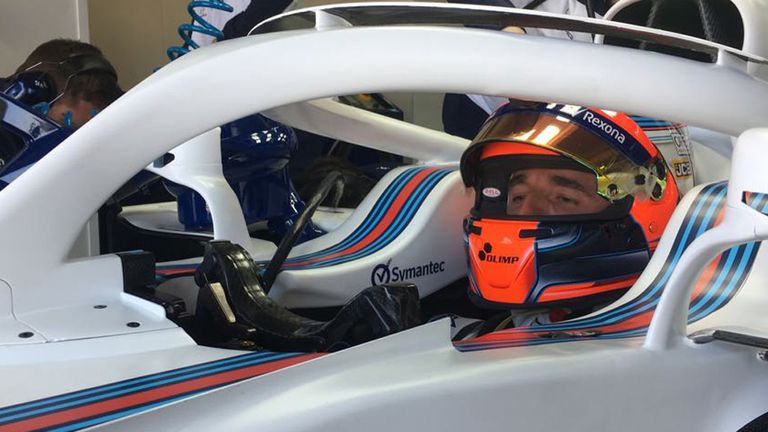 "The car is running well," technical boss Paddy Lowe told Sky Sports. "We did find some important issues which we can now solve.
"But we haven't done any performance running, it's not about lap times or the feel of the ultimate pace of the car. It's really about finding those little teething problems that would have wasted time on the first proper day of testing."
The event marked the first occasion Williams' new car had been seen outside of the digital images the team released a week ago.
Development driver Kubica, rather than race drivers Sergey Sirotkin and Lance Stroll, drove the car on its initial run.
"It's the first run of the car," added Lowe. "It gives us an opportunity to check the systems, primarily to see if we have any problems before we hit the ground in Barcelona. So any problems we come up with today, we can solve overnight. It's an important day for the team emotionally to see the new car.
"We've been passing news back to base to keep them in the loop, they've been working extremely hard over the last few weeks, it's a really great moment to get the car out."
Can Williams get back on course?
Every team will be approaching winter testing with a mixture of excitement and trepidation. But none more so than Williams after the team ripped up their previous design philosophy to deliver a FW41 car they have described as 'significantly different' to its predecessor.
According to Sky F1 analyst Mark Hughes, the new Williams 'is almost totally unrelated to last year's FW40'.
F1 in 2018: The new cars revealed
The upshot is a critical week ahead for the team as they bid to determine whether their new car design has put them back on track after a deeply disappointing 2017 campaign.