Pastor Maldonado insists his F1 future is not linked to any decision made by PDVSA
Venezuelan claims he will stay in F1 with or without long-term backer
By Mike Wise in Sao Paulo
Last Updated: 22/11/13 11:10am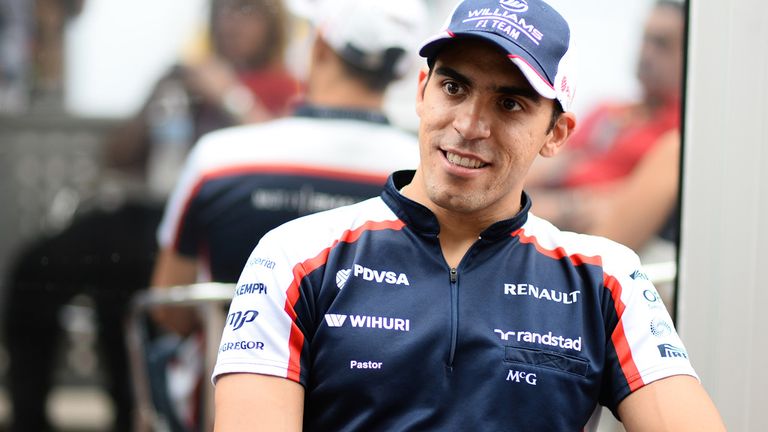 The Venezuelan has benefited from the support of the country's state-run oil company throughout his racing career but both driver and sponsor are departing Williams after this weekend's Brazilian GP.
An assumption has been that wherever Maldonado heads next, PDVSA will follow. However, speaking in the Interlagos paddock on Thursday, the 28-year-old said that wasn't necessarily the case.
"It's not down to me, the decision of PDVSA. For sure they've been supporting me for a while but maybe they don't want to continue," Maldonado said.
"Maybe not; maybe yes. We'll see. I don't have the 100 per cent that they want to continue, to go for another team or not.
"They support a lot but some time maybe they can have a different opinion and different decision. I cannot do anything about that."
Maldonado's insistence that he and PDVSA are not umbilically linked further clouds perceptions of which driver might go where in 2014.
The reasoning has been that he and Nico Hulkenberg are in the reckoning for a seat at Lotus, with the door opening for Maldonado if Quantum Motorsports - the investment company seeking to buy a 35 per cent stake in the team - fail to come up with the necessary funds.
Speaking in Austin last weekend, Maldonado said he had a preferred destination but did not name Lotus explicitly.
He added that no contract has been signed, yet insisted on Thursday that other options are still worth pursuing.
"Lotus is a good option, but Sauber is a good option and Force India is a good option. They show that they are very good teams; Force India has been more competitive than McLaren this year," Maldonado said.
As the driver market remains in a heightened state of flux, Hulkenberg likewise is not concentrating all his efforts on what currently appears the best seat available.
"That is not just the situation, that I'm waiting just for Lotus and for Quantum. That's not the truth. It's a matter of getting everything together and negotiating with other teams which are in the hunt," he said.
"The Lotus situation has obviously been around for weeks and it's an ongoing process at the side. But it's not that I'm waiting every day on a call from them."
The Sauber driver, who has also been linked to a return to Force India, admitted the situation is such that he has even considered the possibility of missing out on a drive next season.
"I think there's danger around and you need to be careful, keep your eyes and ears open," added Hulkenberg, who spent a season on the sidelines after leaving Williams in 2010.
However, the 26-year-old added: "But I think also there's options and opportunities and interest and that's important. As long as we have that then there's a good chance that I'll be here."