McLaren pulled the wraps off their new car amid speculation about Eric Boullier's arrival
MP4-29 breaks cover but team boss Whitmarsh a conspicuous absence
By Mike Wise
Last Updated: 25/01/14 12:04pm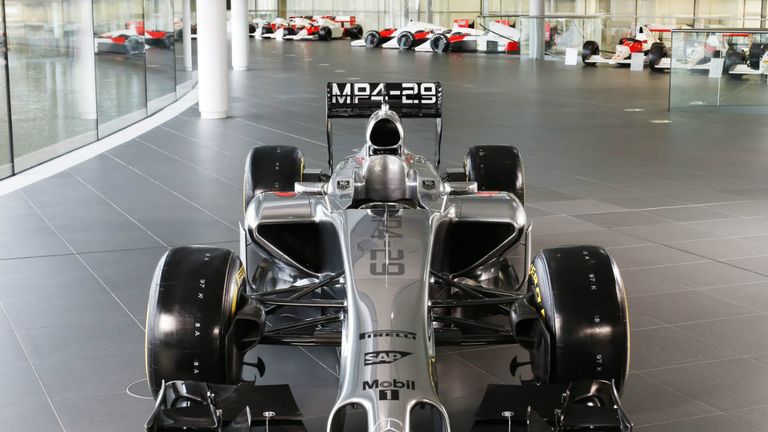 What had been anticipated as a fairly low-key online launch was instead hijacked by Lotus's announcement during the morning that team owner Gerard Lopez would also take over from Boullier as Team Principal. Almost immediately, the Frenchman was linked to the Woking team.
Rumour has been rife that Whitmarsh will be cast aside ever since it was announced last week that former team boss and McLaren Group CEO Ron Dennis will take a more hands-on role. Ex-Mercedes Team Principal Ross Brawn was linked with the job but there was no mention of Boullier, who had run the Lotus team for a total of four seasons.
Speaking at the time, Dennis said he would undertake a company-wide review in February before confirming any changes, so there will be no formal announcement just yet.
As it was, then, McLaren's propensity for creating headlines left little room for their new MP4-29 chassis, even though its appearance was the most keenly-awaited of the year so far.
The team are seeking to hit back after a disappointing 2013 season, when they finished fifth in the Constructors' Championship and failed to score a podium finish for the first time since 1980.
McLaren's car, featuring its own variation on the 'drooping' nose design which has already become a talking point, is their response to the sport's new formula mandating 1.6-litre V6 turbocharged engines and enhanced recovery systems. Like all their rivals, they've been working to a tight deadline and its Mercedes engine was only fired up for the first time on Tuesday.
The team were criticised last year for the radical overhaul that resulted in the unspectacular MP4-28 but clearly have had no choice this time around.
With McLaren MD Jonathan Neale giving the team's first reaction rather than Whitmarsh, he said: "We've never had such significant new regulations before; reacting to them, and managing those changes, while still pushing the performance limits, has been an extremely tough job."
With F1 teams stepping into the unknown and facing the likelihood of unreliability early on, Neale said that McLaren would not be chasing lap times right away.
"We've been relatively pragmatic about it," he said. "We know that the need for consistency initially outweighs the need for performance - the winter tests won't be about chasing set-up or refining the car; the envelope of performance is likely to be so wide, and so relatively unknown, that the winter - and to some extent the opening races - will be about understanding the operational boundaries of the car as best we can."
Neale added: "This year, more than ever, will come down to a development race: I don't necessarily think you can expect the car that wins the opening race to be the car that leads the championship charge, something we've often seen in the past."
Sporting Director Sam Michael, meanwhile, played down their title aspirations but said that McLaren certainly hope to place either or both of Jenson Button and newcomer Kevin Magnussen on the top step of the podium.
"We've made no secret of our disappointment at how the 2013 season turned out," he said. "The aim now is to get back to winning - that's what McLaren exists to do - but there's a certain amount of growth and regrowth that needs to take place before we return to a position where we can challenge for the world championship.
"The good thing is that we've acknowledged that, and we've actually been working towards that goal for many months now."
In a sense, 2014 represents an interim season for McLaren. Besides the uncertainty at the helm, they have no title sponsor and are seeing out the final year of their Mercedes deal before switching back to Honda power.
Michael insisted, however, that "the future for McLaren is bright, and we're now putting in place the processes that will move us closer to our goals.
"For 2014, our aim is for continuous development; we'll be refining and strengthening the car and the organisation throughout the year, so you'll see a rapid turnover of parts and ideas on the car as we, like every team, wrestle with the many unique challenges of these new regulations."
The Sky Sports F1 Online team will be providing live commentary of all three winter tests, starting in Jerez on Tuesday January 28, with live updates from trackside also on Sky Sports News.