Eric Boullier apologises to McLaren's fans for delay in naming 2015 drivers
Alonso expected to return; Futures of Button and Magussen in doubt
By William Esler
Last Updated: 03/11/14 6:14pm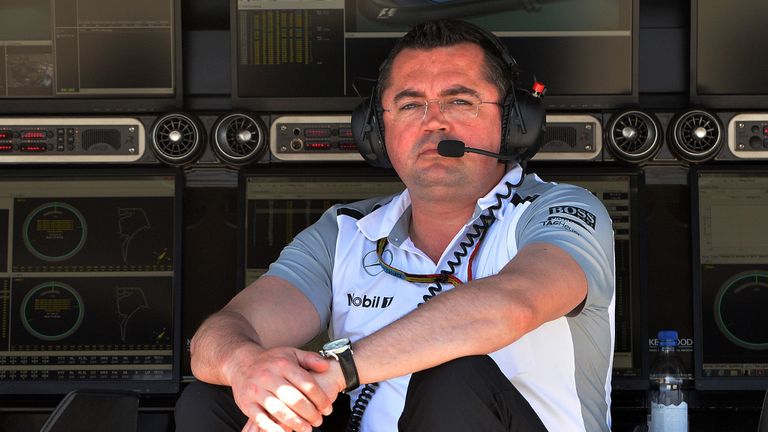 Eric Boullier has apologised to McLaren's fans for the length of time it has taken to appoint their 2015 drivers.
The futures of both Jenson Button and Kevin Magnussen are yet to be resolved with Fernando Alonso expected to return to the Woking squad.
With McLaren rekindling their ultra-successful partnership with Honda next season the Frenchman admits it is critical to get the line-up right.
"I don't know if it is the most important for some years, but certainly since I joined a few months ago," he told Sky Sports News HQ. 
"One of the reasons it takes so long, and I apologise to the fans because I know everyone wants to know, but we have make the right decision to fit the strategy of the team for the next few years.
"Obviously the momentum we can create and how fast we can catch up with Mercedes will depend on this driver line-up, because it is more than driving, but the effect it is going to have on the team and the morale boost, everything."
With just 18 cars present in Austin, the issue of costs in Formula 1 has been ever present in the paddock this weekend. Thanks to his former role at Lotus, Boullier has seen both sides of the battle and says it is impossible for some teams to be competitive and have a positive balance sheet.
"Formula 1 has some issues to fix and we don't want to see teams disappearing from the grid. But I think the Formula 1 model itself is not in crisis," he added.
"I think it is very difficult with the current business model for F1. The current economic situation outside of F1 in the world is obviously difficult so you find less sponsors. But the main issue is to be competitive there is a certain level of costs that need to be spent and I guess this level today compared to the revenue model and what you can get from sponsorship is too high. You can be competitive, but I don't think you can be solvent."