Max Verstappen won't change approach to defensive driving
"I can understand other drivers don't like it, but I'm here to race and defend my position," says Verstappen after Hungaroring criticism.
By James Galloway at Hockenheim
Last Updated: 01/08/16 3:39pm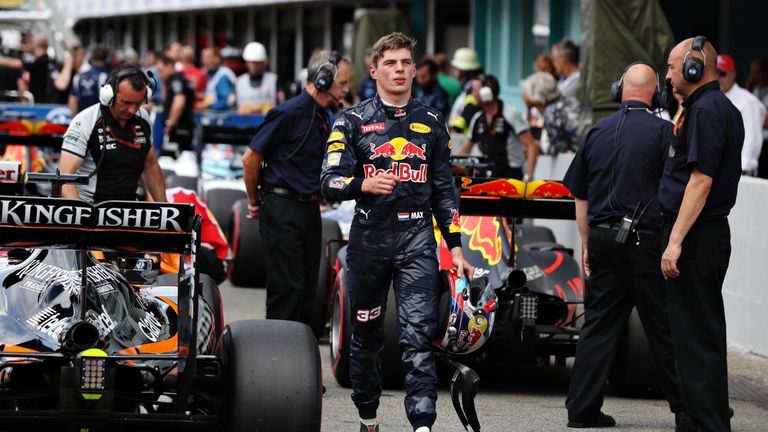 Max Verstappen has vowed to continue making it difficult for drivers to overtake him - declaring "I'm here to race and defend my position".
The Red Bull teenager was pulled up by several of the grid's most experienced drivers for his defending against Kimi Raikkonen in last weekend's Hungarian GP.
The issue of making moves to block cars in braking zones - which angered Raikkonen last Sunday - was discussed in Friday night's drivers' briefing at Hockenheim, with Carlos Sainz divulging all those present had agreed it was "probably the most dangerous thing you can do".
But although Verstappen accepts he was "on the edge" of acceptable limits at the Hungaroring, he does not believe he has to drastically alter his approach heading into Sunday's German GP.
"I think it was all pretty clear. I didn't get any penalty - I didn't even get called to the stewards - so there's no reason for me to change anything," he said.
"Of course, I was on the edge, but it was all within the rules because I did exactly what was allowed. There's not much need to change.
"I can understand other drivers don't like it, but I'm here to race and defend my position. It's not that I say 'guys, you can pass'. If they were in the same situation, they would do exactly the same."
Verstappen, who lines up fourth for Sunday's Hockenheim race on an all-Red Bull second row, believes defensive driving should not be discouraged by a restrictive rulebook.
"If you're not allowed [to defend], it's not fair because then somebody can just dive up the inside," he argued. "If you are not allowed to defend, what's racing about then? [If that's the case] it's all about rules.
"It's better to have the rulebook on the steering wheel - 'alright, wait a second, I turn the page... ah, yeah, you can pass'. It's not like that."
The 18-year-old lines up one place ahead of Raikkonen on the German GP grid, with the pair having also engaged in close combat this season at May's Spanish GP, which Verstappen won.