Brazilian GP Practice Three: Ferrari's Sebastian Vettel clear of Mercedes
Saturday's qualifying starts at 5pm on Sky Sports F1, with build-up from 4pm; Ferrari move two tenths clear of Mercedes
By James Galloway
Last Updated: 04/12/18 2:30pm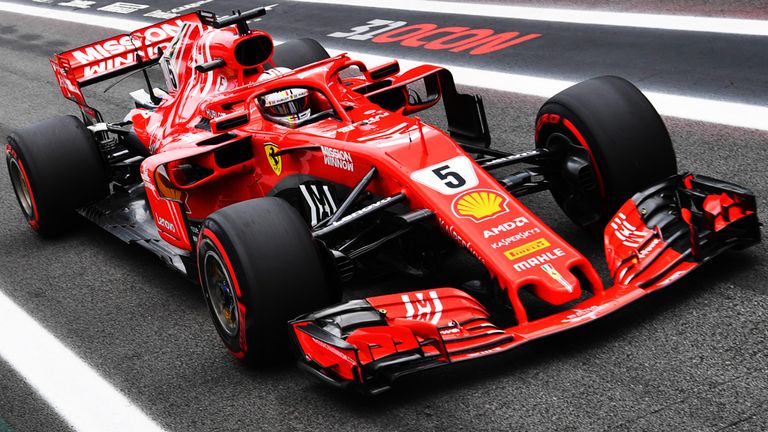 Sebastian Vettel gave Ferrari a boost ahead of Brazilian GP qualifying by outpacing Lewis Hamilton and Mercedes in final practice.
On a weekend they must outscore Mercedes by at least 13 points to stay in the hunt for the Constructors' Championship, Ferrari have looked strong and consistent around Interlagos' undulating confines.
Practice Three results in full
Vettel was the first - and, so far, only - driver to break under 68 seconds for a lap with his 1:07.948 an absolute lap record.
Hamilton was quicker through the circuit's twisty middle sector, but could not match Vettel's Ferrari through the faster first and final ones with the world champion falling short by 0.217s at the end of what proved his best lap.
The Englishman had earlier lost some track time after a breather pipe on his Mercedes came loose and had to be put back in place by mechanics in the garage.
Friday pacesetter Valtteri Bottas was third in the sister car, although several further tenths off the top two, with Kimi Raikkonen a full half second adrift of his team-mate Vettel in fourth.
But while the battle remains tight and tough to call between Ferrari and Mercedes heading in to qualifying at 5pm GMT, Red Bull seem unlikely to repeat their Mexico pole with their RB14 well over half a second off Vettel's pace in P3.
Max Verstappen just ahead of Daniel Ricciardo, who has a five-place grid penalty, in fifth and sixth places respectively.
"Red Bull are just not in it," said Sky F1's Paul di Resta.
The strong form of the works Ferrari is being mirrored by their customer teams in the midfield, with Haas continuing to run at the head of the mid-pack and Charles Leclerc's Sauber also a permanent top-10 presence so far.
Pierre Gasly's Honda-powered Toro Rosso was the interloper in ninth place. Honda have reverted to their more powerful 'spec three' engine for this weekend.
Renault, fourth in the Constructors' Championship, have been shuffled out of the top 10 as a result, with neither Force India also in the top half of the timesheet in final practice. Esteban Ocon, meanwhile, has picked up a five-place grid drop for an unscheduled gearbox change.
McLaren slipped to 18th and 20th positions, although had shown more promise in Friday's sessions.
Brazilian GP Practice Three Timesheet
| | | |
| --- | --- | --- |
| Driver | Team | Time |
| 1) Sebastian Vettel | Ferrari | 1:07.948 |
| 2) Lewis Hamilton | Mercedes | +0.217 |
| 3) Valtteri Bottas | Mercedes | +0.517 |
| 4) Kimi Raikkonen | Ferrari | +0.542 |
| 5) Max Verstappen | Red Bull | +0.785 |
| 6) Daniel Ricciardo | Red Bull | +0.840 |
| 7) Kevin Magnussen | Haas | +1.198 |
| 8) Romain Grosjean | Haas | +1.309 |
| 9) Pierre Gasly | Toro Rosso | +1.454 |
| 10) Charles Leclerc | Sauber | +1.500 |
| 11) Nico Hulkenberg | Renault | +1.513 |
| 12) Esteban Ocon | Force India | +1.640 |
| 13) Marcus Ericsson | Sauber | +1.860 |
| 14) Carlos Sainz | Renault | +1.916 |
| 15) Sergey Sirotkin | Williams | +1.937 |
| 16) Brendon Hartley | Toro Rosso | +2.037 |
| 17) Lance Stroll | Williams | +2.053 |
| 18) Fernando Alonso | McLaren | +2.072 |
| 19) Sergio Perez | Force India | +2.168 |
| 20) Stoffel Vandoorne | McLaren | +2.341 |