Lewis Hamilton: This is my best season
By Pete Gill and James Galloway at Suzuka
Last Updated: 04/12/18 5:16pm
Lewis Hamilton believes he is driving better than ever before in 2018. 
Spurred on to new heights in his 'fight for five' with fellow four-time world champion Sebastian Vettel, Hamilton has hit top form since the summer break, completing a hat-trick of victories in last week's Russian GP to surge 50 points clear in the standings with just five races remaining.
"This has been the best performing year of my career," Hamilton said upon his arrival at Suzuka for the Japanese GP.
While Vettel's campaign has been punctuated by a series of costly on-track mistakes, most notably when he crashed out of the lead in Germany, Hamilton has rarely been anything but excellent to claim the ascendancy over a Ferrari car generally considered to be the strongest in the field.
Find out more about Sky Sports F1
In Russia, however, Mercedes dramatically turned the table to hold a significant speed superiority over Ferrari. But was that the result of a stumble by Ferrari or a leap by Mercedes?
While Vettel has insisted Ferrari haven't lost direction, Hamilton acknowledged: "It's difficult to know to what extent we have improved and they might have gone backwards. We definitely didn't expect to be as fast as were in Sochi."
But amid suggestions Ferrari struggled because of the characteristics of Sochi's low-speed corners, Hamilton is braced for a close fight at Suzuka.
"It's going to be an intense weekend," he predicted.
Although he now holds a commanding 50-point lead over Vettel, Hamilton has promised to continuing operating a attacking rather than defensive game over the final five races.
"I never have to change my approach. It evolved and improves through the year, but I never have to change it," Hamilton said.
"We know that one mistake or one DNF that could disappear quite quickly, so we want to make it [the gap] as big as we can.
"The worry of not finishing first is probably less than it was earlier in the season, but the focus is still the same."
Hamilton reflects on 'uncomfortable' team orders
While significant in this year's title battle, the world champion's described his 70th career win in Sochi last Sunday as the "strangest day" he could remember having in F1 after team-mate Valtteri Bottas ceded the lead to him.
Hamilton, who headed back to the UK between races, said: "Since the moment it happened and until today, it's been something I've thought about. I don't think you get your mind around it, you have to accept it and move forwards.
"I'm definitely split like people are about it. On one side I feel one way about it and, on the other side I feel another way about it. But it's happened, it's done and dusted.
"Collectively as a team we have stayed quite united through the whole experience and I was at the factory on Monday and generally the support was quite amazing.
"And the respect for Valtteri - we all did a toast to Valtteri in the factory, 900 people or whatever it is standing there. It was really awesome."
On the podium last Sunday, a conflicted Hamilton had appeared to offer his winner's trophy towards his team-mate.
"It was just super uncomfortable on the podium, so I didn't really know what to do," reflected Hamilton. "I didn't want to be up there and it didn't feel right standing on the top. It was just a spur of the moment thing."
Bottas has said a Sochi repeat could "definitely could happen again" if Mercedes find themselves in a similar situation between now and the end of the season - but Hamilton has stressed that his team-mate's role over the final five races is not to solely aid his title quest.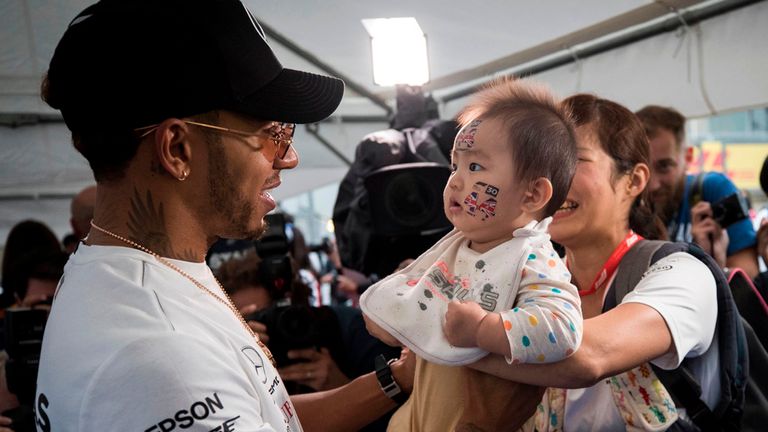 "How I understand it is he's just got to do the best job he can on the weekend and I've got to win," said Hamilton. "I don't arrive here thinking that Valtteri has to work for me."
In a Sky F1 online poll, 60 per cent of respondents agreed with Mercedes' decision to switch their drivers to prioritise Hamilton's championship. Rivals Ferrari, by contrast, have stopped short of such clear place swaps between Vettel and Kimi Raikkonen - despite historically being the F1 team most associated with team orders.
"We've only had team orders in that one last race," said Hamilton. "We've worked as a team in others.
"There have been times when Valtteri, for example, has not been in the top five and there has been a Ferrari, me, and a Ferrari and the Ferraris have worked together, which means they've stopped one car and then I've had to stop. So they have worked as a team in certain parts of the year.
"But in crucial points like Monza they haven't. Is that a surprise? Yeah, because they've done that in the past and why they would change… it's not my problem."