Gearing up for 2014: The rule changes uncovered and explained - Part Two
Some talking points that arise from F1's biggest shake-up for a generation
By Mike Wise
Last Updated: 06/02/14 9:11am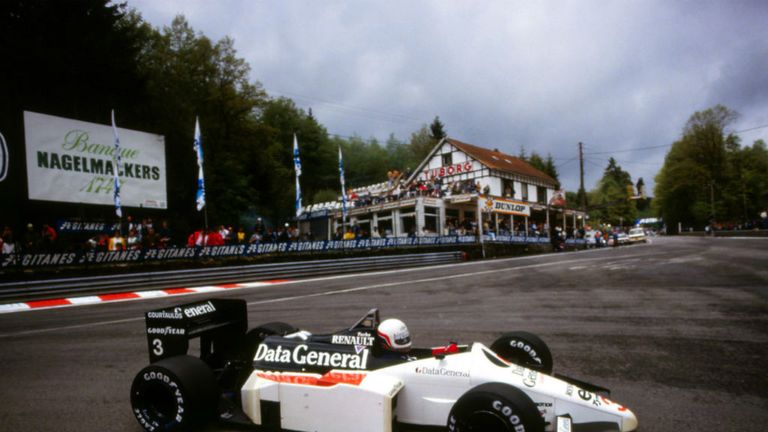 Strategy
What effect will management of limited amounts of energy from different sources have on race strategies?
Martin Brundle: "I think the way that they'll run the races with this new 100 kilos of fuel - whereas now they start the race with 150 to 160kg - makes a hell of a difference. And how it's all going to integrate; I think that will also translate into how the races play out and how complicated they are to follow: whether the teams use their energy at the beginning; what strategies they're going to use. I think it's going to be hugely complex and new - and quite changeable as it unfolds.
"Something I'm keen on is that we have is the right graphics on the TV, so we can understand the race and how it's unfolding."
Testing
The rule changes might be the biggest seen in a quarter of a century but teams still have only three pre-season tests in which to fine-tune their new cars. The return of in-season testing is sure to be appreciated but will it be enough to ensure reliability?
Martin Brundle: "With a big change like this in the past, they would have had all winter to try and sort it out, or they could have had a test mule out with their test team working on it. But they don't have that facility anymore. They've got the normal pre-season tests, which we know are a challenge anyway for the teams, to get this lot up and running, understand what they've got and how to make the best out of it.
"I'm concerned about the reliability early on. That could be a huge issue early doors next year, where you get cars stopping going to the grid left, right and centre because they haven't had time to develop them. But they'll quickly get it sorted, I'm sure."
Lap times
It's been suggested that, because the rule changes are not as fundamental as they might have been, lap times might be too slow?
Martin Brundle: "I said to a team boss, I'd heard about five seconds a lap slower and their view was that that would get quite quickly eroded - as it always does. They'll find ways of maximising the performance. I don't think it really matters what the lap time is. I mean, look at a GP2 car: they look pretty alive, don't they, going five to ten seconds a lap slower than an F1 car depending on the circuit layout. It's about how they're moving around. Do they slide? Do they go wheel-to-wheel? They'll still look very fast; they'll still be much faster than anything else."
Tim Goss: "We'll do quite a good job of recovering the downforce - all the teams do. I don't think the lap times will be too slow. The characteristics will change because it's a very different engine and the aerodynamic characteristics will change. So you might see a significant change in cornering speeds but then different end-of-straight speeds. But I think all the teams will bring downforce levels, and hence laptimes, back somewhere similar to where they are at the moment."
A new 'greener' sport
Is F1 right to place a greater emphasis on recoverable energy, or should it concentrate on simply entertaining the fans?
Martin Brundle: "I think Formula 1 has got to be in the 21st century like that. It's got to be relevant. It's the perennial problem for F1. Is it a show? Is it a technology platform? Is it a sport? What is it? And for me, it's a very easy question to answer: it's a show. We're here to entertain, because if the people don't watch then the car manufacturers and sponsors don't get involved and it doesn't exist. We've got to put a show on so that the fans watch and the TV companies still want to be a part of it - that's what makes it work.
"It needs to be fast, exciting and unpredictable - it needs to be a sport and a show like that. But at the same time it's got to be relevant for a manufacturer. They're not building V8 engines anymore, they're all downsizing. The ERS is going to be twice as powerful for five times longer per lap - it's going to be a fundamental part of making the car work.
"Others will say that's still miles away from where electric cars are going to be, or hydrogen fuel cell cars, or whatever. But I think it's a significant step - Formula 1 had to do something in that direction. Unfortunately, it's going to cost the teams a lot more money.
"I don't think you can put your head in the sand and say, 'Who cares about green issues? We just want to go racing. Does it bother NASCAR?' NASCAR is really agricultural, although people still flock to see it. I think Formula 1 has to be more relevant than that. Honda coming back in demonstrates that it's more appealing to the manufacturer and that there's a relevance to the products they're trying to sell. We have to tick that box."
The sound
There have been fears the noise the engines make won't be quite so appealing. Did the last generation of turbo cars really sound that awful?
Martin Brundle: "They were quite noisy and they used to spit flames, of course, which these ones won't - they won't be able to afford to waste that amount of fuel. But they only revved to about 9-10,000 rpm. These ones will theoretically go to 15 - although I suspect come race day, to save fuel, they'll be more like 12,000 revs.
"What I am nervous about is that, in slow corners, they might not have the engine on at all. They might end up using the electric motor, because of the torque, at a hairpin or something and on the way in you might only hear the gearbox jangling - which is an awful sound.
"Electric motors give their peak torque, pretty much, from just after stationary, so they could well be doing torque management through the slow corners with the main engine switched off. That won't be very exciting, will it?"
The cost
As Martin points out, the new rules might place F1 in a more relevant and environmentally-friendly position that's more attractive to manufacturers, but there's also a downside. "There's no good if it breaks the teams financially. That's the problem," he adds. The 2013 season saw frank words from both Marussia and Sauber to the effect that they're struggling, and the cashflow crisis extends as far up the grid as Lotus.
Putting a figure on the new engine bill is, at best, a speculative exercise but an estimate of $30 million (a three-fold increase) has been mentioned. So if the big car companies do indeed come back in, will it be at the expense of the independents?
In conclusion
Are the rule changes a change for the better?
Martin Brundle: "I'm open-minded. In the early days we could have three Championships. Let's say, just for the sake of it, that Mercedes do a better job than Renault, who do a better job than Ferrari - or whichever order you want to put that in. It's such a sea-change; you could have those three engines delivering completely different performance and, effectively, three Championships going on almost.
"Overall I think that, in the end - inevitably - it'll be fine. But I think it could be a little bit painful in the early stages."
We shall see.
MW
Click here for Part One.