No room for friendship as Nico Rosberg and Lewis Hamilton battle for the title
Sky F1's Martin Brundle reflects on the rivalry that is dividing Mercedes and the incident which divided the paddock in Monte Carlo...
Last Updated: 28/05/14 11:51am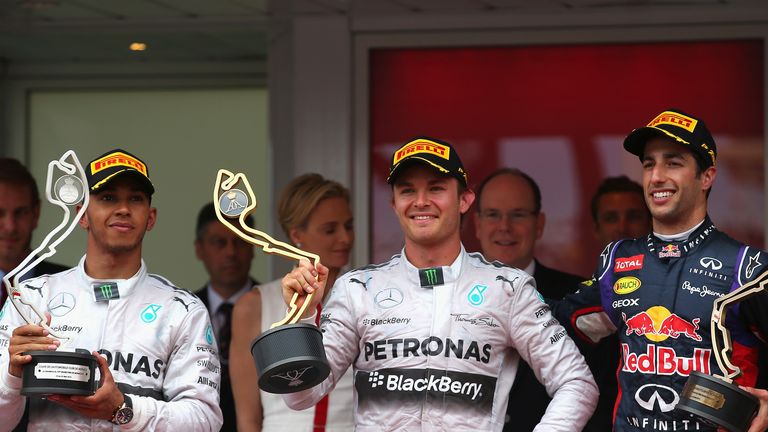 But in lighting the fuse at Mercedes, and effectively securing pole for a race Nico proceeded to win comfortably, it was a mistake which shaped the weekend and one which could well shape the rest of the season too.
Did he or didn't he do it deliberately? My own gut instinct is that his actions and error were not intentional. Admittedly, I was in a minority in the paddock with that view, but having said that there were many people I respect, and whose views I value, who were also eager to give Nico the benefit of the doubt. There was plenty of room for suspicion but as one former driver put it to me, it would have required an awful lot of premeditation - and thinking inside the car - for his lap to start unravelling between the exit of Casino Square and Mirabeau.
We can learn a lot from Monaco - and, in particular, about Nico. He knew he had to stop the rout after four defeats on the bounce and I found his response to events in qualifying especially telling. There was no attempt to explain or excuse himself and he just batted away all the questions and suspicions like water off a duck's back. As the paddock went nuclear around him, the fall-out just seemed to bounce off him. There was a steeliness to Nico which we haven't seen before.
In contrast, the incident did seem to affect Lewis Hamilton. As plenty of people have pointed out since, Lewis wasn't exactly shy in complaining about his lot both during and after the race. His gritty left eye did look swollen on the podium but he curiously played that problem down after the race. But while it's easy to accuse Lewis of whinging and being petulant, that does tend to be the way of a champion. Think of Senna, think of Mansell - they were never shy in displaying their discontent in public. One characteristic all the champions have in common is selfishness. Utterly self-focused, the one thing they all want is an unfair advantage in their favour. The flip side is that they simply can't tolerate someone else having that advantage. It hurts them badly when they do - that's their weakness.
So where does it leave us for the rest of the year? Hamilton and Rosberg are bound to be looking at 2014 in exactly the same way that we are all looking at it: that one of them is going to win the World Championship and it's only their team-mate who can stop them. They might well have been friends once - I remember them well as teenagers bouncing around the F1 paddock together - but with a championship on the line any semblance of friendship has gone out of the window.
For Mercedes, it's a very delicate situation and it will be very interesting to see how Toto Wolff and Niki Lauda play it. They are - like Lewis and Nico - two very different characters. Toto is the more PR-orientated and media savvy. Niki, as you might have noticed during my interview on the grid in Monaco when he happily admitted that Lewis had used a higher engine setting in Spain, is an open book and remarkably frank. He's unlikely to dodge a question.
Independently, both Niki and Toto said on Sunday night that they will sort the situation out with their drivers. What I'm interested to see is who exactly does do that sorting out, how they intend to do that, and how they agree to manage it. It's certainly going to be very difficult for them both not to get dragged into a very delicate situation and I can easily foresee this becoming a four-way dynamic. Don't forget it was Niki who was the pivotal force in bringing Lewis to Mercedes in 2012 when he wore him down with hours of persuasion in his hotel room in Singapore. Not that Lewis is complaining about that.
For the rest of us on the outside, it's become brilliant viewing. The rivalry between Nico and Lewis is what the fans want to see. There's always plenty of interest in the cars, the technology and the lifestyle, but what people really care about is the drivers. Just look at the amount of debate the Monaco weekend has already generated. It has stirred the emotions and passions - and that's exactly what sport ought to be doing.
Meanwhile, congratulations to Marussia for scoring their first and well-deserved points in a chaotic race. There were some clumsy overtakes which reminded us that the brake-by-wire systems are still relatively immature, and a few other silly mistakes. Fernando Alonso was curiously anonymous for a second consecutive year in Monaco, which is odd for a two-time winner. And Daniel Ricciardo continues to dominate Sebastian Vettel, who somehow just stopped himself from totally blowing a fuse on the pit radio.
Pete Bonnington, Lewis's engineer, probably wishes Hamilton had a slightly longer fuse as Pete seems to be damned if he does get on the radio and damned if he doesn't. Mind you, we all have to respect and remember that when we get angry and curse, we don't have a few hundred million people listening to us as we dance an F1 car around the streets of Monaco...