Martin Brundle: F1 driving to a great season despite maddening politics
Sky Sports F1 pundit Martin Brundle on the best and worst of F1 on show in Bahrain as the new and improved Nico Rosberg offers a stiffer title threat to Lewis Hamilton
Last Updated: 07/04/16 5:13pm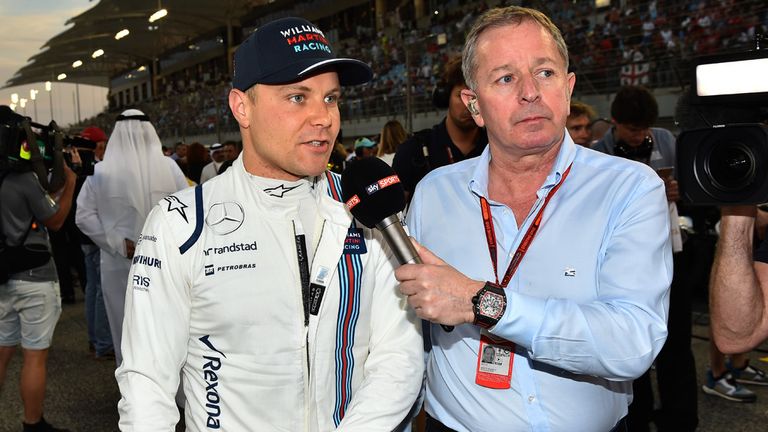 The Bahrain GP was another decent F1 race worth your heartbeats to watch I reckon.
We were robbed of a classic, however, with Seb Vettel's non start, Kimi Raikkonen's poor start, and Lewis Hamilton's first corner clash with Valtteri Bottas.
Thankfully the rest of the pack were having a go up the inside and outside at every opportunity. The new single-paddle clutch will continue to make the starts highly variable for much of the season before the teams find a sweeter spot in the process, and even then it will never be easy to make consistently good starts within the current regulations.
This variability along with the introduction of a third race tyre compound has spiced up the races nicely, duly supported by the best quality grid we've seen in a decade.
All the more reason then not to keep playing around with qualifying in an attempt to energise the races.
Not immediately reverting to the longstanding 2015 qualifying format rather sums up where F1 governance and direction is right now; moribund and gridlocked. The system is broken, and to change anything you have to get through that broken labyrinth.
It also smacks of a power struggle as to who is really in charge. I don't believe it's the race promoters who are genuinely pushing for a qualy change. It's an attempt to rewrite the commercial and governance landscape, which can't realistically happen until 2020 unless there's a Big Bang somewhere.
It's also about stopping Mercedes from winning but F1 is about excellence and delivery, not holding people back to the lowest common denominator. Ferrari and others are catching up, we should be focused on that and finessing rules to ensure it happens as quickly as possible, as has been done to an extent.
A new fastest ever lap record at Bahrain was set over the weekend using just over half the fuel flow of the famous 3.0L V10s in 2005. The cars are effectively 3.5 seconds slower in weight now too, although much of that is included in the power/efficiency equation.  Other regulations have also constantly attempted to slow them down in that decade.
When I was out on track on Friday evening the sparking, writhing, accelerating missiles were a joy to watch. We are not conveying barely 50 per cent of that while we wash our dirty linen over ridiculously conflicting and confusing messages about something that needs no change, and that's qualifying of course.
As I said to Jess Glynne on the grid, her famous album 'I Cry when I Laugh' sums it up perfectly. And still we have more team votes before China on qualy formats that don't even include the one the fans want back. It's all playground stuff and sends me mad.
We've had our furious debates, laughs and sarcasm about F1 qualy now, so let's kick it into touch and get on with the season. I have every confidence they will take a sensible pill this week and do the right thing… Yeah sure, watch out for that low flying bacon.
Nico Rosberg won fair and square. He aced the start, kept out of trouble, paced himself and made no mistakes. He was pretty cautious into turn one which caught Lewis out but that's his prerogative.
Lewis swapped sides without realising the fast-starting Bottas was so close, firm contact was made and they were both lucky to stay in the race. The door was wide open but Valtteri shouldn't have tried to walk through, he was heading into an inevitable closing wedge - although, as he points out, he was also defending from behind. It was an avoidable collision and the drive-through penalty felt about right, although equally a five-second penalty at his first pit-stop could easily have been argued as fair too.
Lewis says don't worry about him being 17 points behind because he's not. I was at the same function as him on Sunday night after the race and I can confirm he looked super relaxed and content.
He overturned a points deficit to win the title in 2014 of course, more than once. But for me there's now a big difference, because Nico Rosberg is faster, better, and has greater self-belief than back then. And Ferrari could well get in the mix too. In my view Rosberg has a real chance to win this championship, although Lewis still has the edge on speed.
Romain Grosjean is fifth in the Drivers' World Championship, splitting the two works Ferrari drivers in his 'customer' Ferrari with new team Haas. What an impressive performance. I know that Williams, Sauber, Force India and others are violently against such team set-ups, but why struggle for cash and performance and ultimately survival making every widget the fans can't see and don't care about, and then not be competitive?
Of course this needs careful control to ensure key manufacturers can't totally dominate the whole grid through customer teams, and then clear off when it suits them leaving a lack of production capacity behind. A good way to do that would be to attract several more car manufacturers, but which company board is going to sign off joining this currently rudderless ship?
Stoffel Vandoorne underlined that young drivers are one of the best things about F1 at the moment with a last-minute substitution in the McLaren followed by an assured performance throughout culminating in the team's first point of the season.
This partly made up for having to watch Fernando Alonso sitting on the pit wall looking very much like a man who wanted to and should have been in the car. At one point he was even on the floor doing press-ups trying to convince the stewards. Determination, adrenalin, and pain killers were all designed for such moments, but nervy H&S with too much information now totally holds court over our gladiators.
Once again though, despite itself, I still think F1 is in for a great season.
MB