Lewis Hamilton 'couldn't care less' about Nico Rosberg's win streak
Rosberg wins Bahrain GP, Hamilton third; Briton claims team-mates run of five straight victories over two seasons doesn't count
By Matthew Morlidge
Last Updated: 07/04/16 5:15pm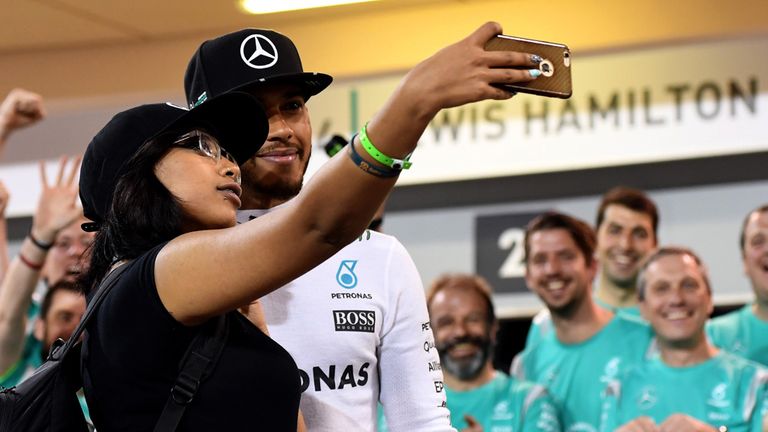 An upbeat Lewis Hamilton says he couldn't care less about Nico Rosberg's five-race winning streak, insisting the record doesn't count.
Rosberg has now matched Hamilton's longest-ever run of race victories after winning the Bahrain GP, benefiting from another poor start from his Mercedes team-mate, who eventually finished third.
But Hamilton claims he's not affected as winning consecutively over two seasons isn't anything special, instead focusing on the 2016 campaign where he has dropped 17 points behind the German in the Drivers' Championship.
"I couldn't care less if Nico won the last five - it's the last two," Hamilton, who won five in a row in 2014, said. "There's only been two in the season. It doesn't count.
"You win consecutively in a season - that's something. Five over two seasons, for me that doesn't psychologically mean anything to me.
"I feel really positive even though we have lost the first two races because of the foundation building work that my engineers and I have done. Considering I've been here four years, our communication is better than ever, and the strength which we have is stronger than ever so I know we're going to come good.
"When you ask if I'm worried, I'm not, because we have two poles. We're going to get more, there's no real flaws in our procedure. It will start getting better."
Polesitter Hamilton fell behind Rosberg from the start and his W07 was then hit by a fast-starting Valtteri Bottas at Turn One, which damaged his car's bodywork and floor.
The Briton, struggling for downforce which Mercedes have suggested cost him one second per lap, found himself back in the podium positions but was unable to catch Ferrari's Kimi Raikkonen.
Bahrain Grand Prix driver ratings
Hamilton was adamant that Rosberg must have had an easy race out in front after his first-corner incident. Still, with 19 races left in the season, he is keeping calm and even provided a boxing analogy for the current fight.
The 31-year-old added: "This is a psychological game, for sure. It's a battle. I guess with age and experience, I'm in the most solid place I've been psychologically. There's very little, if not anything, that can penetrate that.
"Nobody likes losing and of course all my guys back at the factory work so hard. My engineers did such a fantastic job and we could have easily converted that to a win. We had the pace. We didn't win and we all feel the pain. But I told them there's a long way to go.
"Remember Muhammad Ali in the 'Rumble in the Jungle' [fight with George Foreman in 1974]? He got the other guy to believe he was winning and then he didn't, so anything can happen."