Martin Brundle: Daniel Ricciardo becomes a contender for the 2018 title - and a Mercedes seat in 2019
Sky F1's Martin Brundle reviews an epic Chinese GP, a race of contrasts for the Red Bull pair, and ponders the unthinkable for Mercedes' 2019 driver choice...
Last Updated: 11/12/18 3:10pm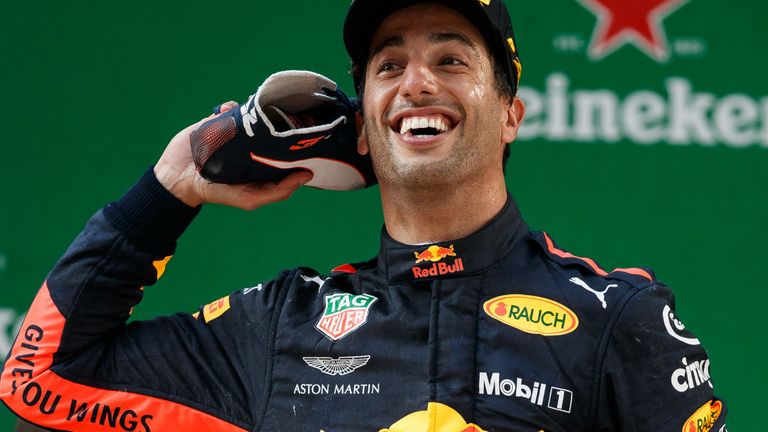 That was a very significant race for both Red Bull drivers, of course in completely diverse ways.
Daniel Ricciardo has never won a race when starting in the top three, and he summed it up when saying 'I never seem to win boring races'. And Shanghai 2018 was far from boring.
If Ricciardo sometimes lacks the absolute raw pace of his young team-mate Max Verstappen, he more than makes up for it with a racing guile that any of the past F1 legends would appreciate. In the same style as his other five victories, shown a glimmer of unexpected glory he ruthlessly and opportunistically moves forward.
As Ricciardo said on Sky F1 post-race, give him a regularly front-running car and he's ready for a title challenge. I wouldn't even discount that as an outside chance for 2018 if Red Bull and Renault keep developing well.
Mercedes no longer dominate in every respect of F1.
Ricciardo is out of contract for 2019. His smile looked even broader when he sat in the post-race press conference alongside two solemn Finns in the form of Kimi Raikkonen and Valtteri Bottas, both of whom's seat he may well covet.
It's a tough call for Ricciardo, assuming the two seats are actually available to him. Raikkonen appeared to be heavily compromised by Ferrari on his strategy once again in order to help Sebastian Vettel recover ground after Mercedes had outsmarted them with the undercut to put Bottas in the lead. Would Ricciardo be able to contract out of that kind of service in Seb Vettel's team?
Horner: Why would Ricciardo leave?
If Kimi feels unloved and unlucky at Ferrari at the moment I wouldn't blame him at all.
Might Red Bull eventually be a more comfortable and faster home to remain at than Mercedes or Ferrari, or have they invested their future primarily into Verstappen?
If Mercedes is an opportunity, where would he sit within the all-powerful sphere of Lewis Hamilton?
Let me throw this outrageous curveball. Hamilton doesn't seem particularly happy at the moment, and I can imagine he will be super expensive to hire for his next Merc contract too. If that isn't already signed, would Mercedes go for the four-and-a-half-year younger Ricciardo instead? Sponsorship agreements might complicate that.
I spoke with a crestfallen Verstappen on the journey home. That race will be a turning point for him as he could have been celebrating a victory too. He said to me that he should have waited a lap or two longer before trying to pass Hamilton and Vettel, that he had plenty of time. His decision-making process on how and where to pass them was impatient, flawed, and very high risk on both occasions.
Of course his first lap overtakes on Lewis and Kimi were outstanding, just as his aggressive first lap in Mexico last year gained him a comfortable victory. On Sunday after his two overtakes his engineer said on the radio 'don't get greedy' and that was prophetic.
Ricciardo wins thriller in China
Verstappen: Vettel crash my fault
How did Ricciardo win that race?
Max is no longer a new boy. He's in his fourth season of F1 and has 63 starts despite still being only 20. He should have given Hamilton more space in Bahrain, he should have been more patient in China. He needs to pick his battles more carefully, play the long game, put the percentages in his favour, and just ratchet back a little on the aggression and showboating. But not too much. And nobody knows that better than him, especially after Sunday.
The Red Bull bosses seem calm about it, saying that they've seen it all before with Vettel, although I'm not fully convinced about that. They also know they could have had a one-two in China.
Through a race, the teams constantly move in and out of the 'Safety Car pit stop window' depending on the stage of the race and when they have made their scheduled pit stops. This means that when in the 'window' and the Safety Car is deployed, a pit stop will happen. In some teams this also means the driver automatically goes onto the pit lane if he has not passed the entrance, without even waiting for the radio call.
Vettel and Bottas were just past the pits on lap 31 when the Safety Car boards went up but six drivers who were in the window pitted including both Red Bulls. Another obvious candidate was Lewis Hamilton who had last pitted on lap 18, but it didn't happen for whatever reason and it cost him dearly.
Clearly forgetting how Safety Car scenarios won him the recent Australian GP, Vettel has said that the FIA should consider the impact of the timing of deployment with regard to affecting the race order, presumably especially the leaders. The FIA can't instantly calculate that for 20 cars and second guess who may or may not pit.
Some questioned the need for the Safety Car at all after the two Toro Rossos collided while misunderstanding team orders to swap position on their different race strategies. There was significant debris on the track and given the high-speed nature of the layout and the possibility of punctures most people I spoke to felt it was necessary, and some even felt it was a lap too late.
However after Verstappen turned Vettel around, taking a bite out of the Ferrari's right side floor, and Vettel having fried his rear tyres while spinning back round as Verstappen took a 10-second penalty, this enabled Hamilton to gain 8 points over Vettel in the title hunt which was a gift after a difficult weekend.
Mercedes are one point ahead of Ferrari in the Constructors' Championship and this looks set to be an epic season.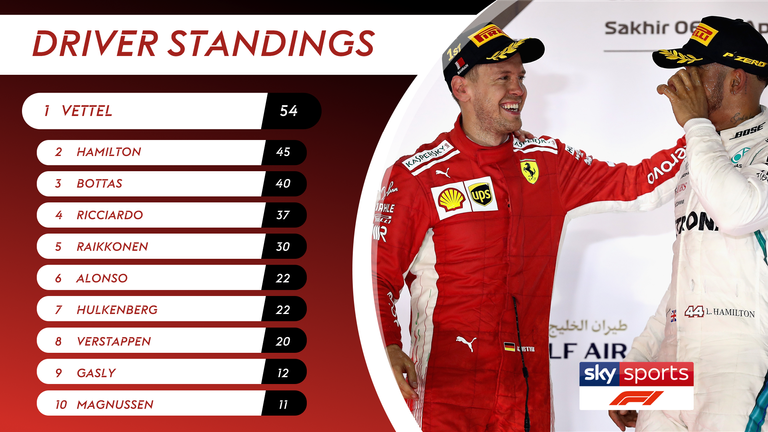 Despite a lack of aggression at key moments, Bottas is doing a fine job for Mercedes in qualifying and on race day.
Nico Hulkenberg did an outstanding job for Renault, not least for sailing around the outside of the mildly injured Ferrari of Vettel. The Hulk is winning out over his highly-rated team-mate Carlos Sainz at the moment.
And Fernando Alonso was his usual relentless and aggressive self too with a rather firm move to pass Vettel in Turn Two which must have given him some satisfaction at long last. McLaren's car is not efficient enough and lacks straight-line speed, such that they were forced into slipstreaming each other round in qualifying.
I will leave you with those thoughts while I continue to mull over just how Ricciardo can brake so late whilst avoiding his rival and still make the corner, with a clean exit.