Lewis Hamilton suffers more qualifying woe after brake disc failure triggers Q1 crash
Hamilton to start no higher than 15th; Lewis says crash "another gift" for team-mate Rosberg; Mercedes confirm discs were new on car for qualy and supplier Brembo have "history" of issues in 2014
By James Galloway
Last Updated: 20/07/14 10:01am
Lewis Hamilton's described his heavy brake failure-induced Hockenheim crash as "another gift" for Mercedes team-mate Nico Rosberg after his title challenge took a fresh knock in qualifying.
The Briton, aiming to retake the championship lead from team-mate Rosberg this weekend a fortnight on from his British GP victory, held the second-fastest time in Q1 in Germany before his session came to a shuddering halt with a crash in the track's Stadium Section.
Braking for the banked Sachskurve, Hamilton suffered what Mercedes confirmed was a right-front brake disc failure which caused his W05 to spin off the road and into a heavy impact with the crash barrier.
Hamilton, who sounded as if he had been winded when reporting over the radio that he suspected a braking fault, was taken to the circuit's medical centre for a check-up, with his team stating that he was "ok but sore from the crash".
Speaking to Sky Sports F1 after returning to the paddock, Hamilton confirmed that nothing would stop him from taking part in Sunday's 67-lap race as he bids to make up for the latest setback.
"A little bit sore but I'll be okay. I'm in a little bit of pain but that's what usually happens when you have a crash like that. They said I pulled 30G or something, but it's okay," he said.
"But even if something was broken I'd still be driving tomorrow."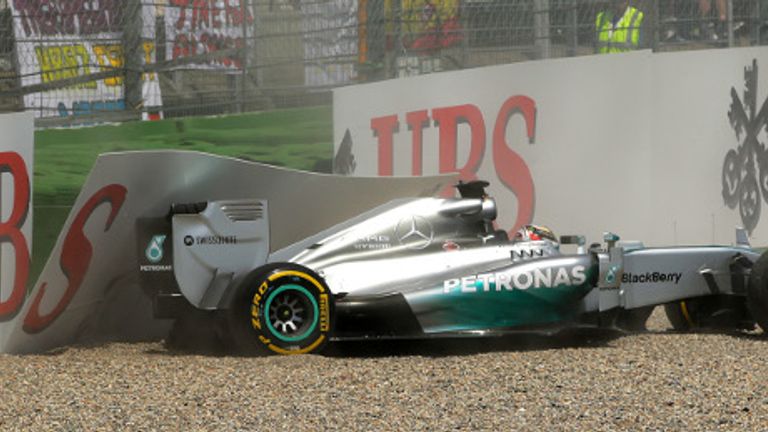 Saturday evening disappointment has become a recurring theme for Hamilton ever since he claimed what stands as his last pole position at the Spanish GP in May. Q3 mistakes in both Canada and Austria were followed at Silverstone by the misjudgement of not completing a final qualifying lap when the track was drying out.
And while the latest knock to his championship aspirations came through no fault of his own, Hamilton was philosophical about the crash and vowed to keep on fighting. He did, however, remark that it was "another gift" for Rosberg in apparent reference to his own pair of race retirements this season.
"I can't believe it obviously, but things like this happen," he reflected. "Things for whatever reason are sent to try us.
"The guys worked so hard over the evening, they were up really late last night, and we've done such a great job with the set-up. It felt fantastic out there and I didn't even get to do five laps. But it's nothing to do with the guys. They're supposed to go through a lot of tests with the brakes, which they did, but it's just a bit unfortunate I think.
"We'll figure something out. There's still a decent amount of races to go. Obviously Nico's basically got another gift but we'll do what we can tomorrow."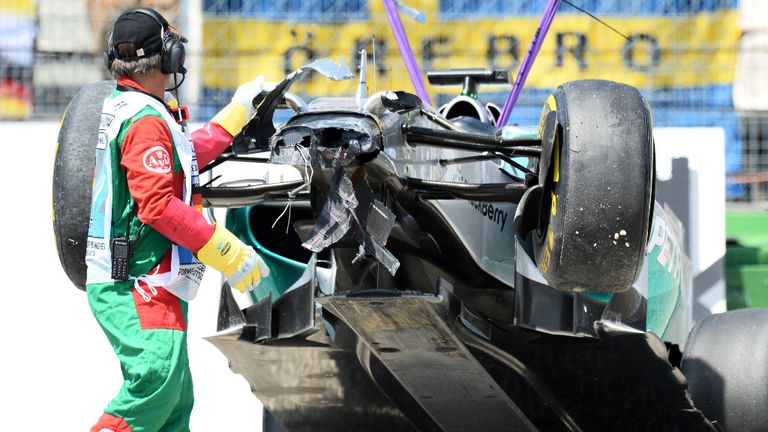 Mercedes' joint team boss Paddy Lowe revealed that the brake discs on Hamilton's car had been changed ahead of qualifying, although he stressed that such procedure is "quite normal on the circuits where there's going to be any duty on the brakes at all".
He also confirmed that, unlike Rosberg, Hamilton chose to run with brake discs manufactured by Brembo on his W05 and that Mercedes along with other teams had experienced problems with the Italian firm's product this season. 
"It seems to be a structural failure of the carbon material," Lowe explained to Sky F1. "There has been a history of that this year, actually. It's the Brembo material, not just on our car but on a number of other cars. So a lot of work's been done, but without understanding why it's failed again it's difficult to know [why it happened again].
"Nico's running Carbone Industrie material so it's not an issue."
With the team to repair Hamilton's battered and bruised W05 overnight, Lowe added that they would do everything they could to get the Briton back up the order on race day.
"There's a lot of work to do on the car. We'll be busy tonight and get Lewis out in great shape for the race tomorrow and see if we can recover him to the front of the pack," he said.
Hamilton was due to start in 15th place on the grid but is likely to start from the pitlane after Mercedes reverted to Carbone Industrie discs as they repaired his car on Saturday night.
Watch the 2014 German GP live only on Sky Sports F1. Race-day coverage begins at 11.30am from Hockenheim on Sunday