Lewis Hamilton questions message to hold second place in Spanish GP
"It's not something you want to hear," world champion says after finishing behind Nico Rosberg in Barcelona; Hamilton concedes, however, that it was "understandable".
By Pete Gill in Barcelona
Last Updated: 19/05/15 1:44pm
Lewis Hamilton has questioned a message he received in the closing stages of the Spanish GP to consolidate second place behind eventual winner Nico Rosberg.
Having re-claimed second place from Sebastian Vettel after switching from a two to a three-stop strategy, the world champion was almost twenty seconds behind Rosberg after making his final stop on lap 51 of the 66-lap race.
Mercedes' decision to split their drivers' strategies, taken after Hamilton's poor start had dropped him behind Vettel's Ferrari, placed him on the faster medium tyre for the final stint.
Although he briefly made inroads into Rosberg's advantage, Hamilton then eased up. Speaking to Sky F1 afterwards, he admitted that he ignored the message from his Mercedes team to ease off at first before realising that the game was up.
"It's not nice for a driver ever to hear that. I'm here to race; I'm not here to finish second, so naturally I ignored that," Hamilton said.
"I was pushing and really putting the car on the edge and when I realised there were seven laps to go and I had 13 seconds and I was only seven-tenths of a second up, I had to take the smart approach and just bring the car home.
"But, still, it's not something you want to hear. So I'll definitely be making sure that that's not said again."
Even so, Hamilton admitted that he understood the team's reasoning. "I guess naturally, by me pushing, he has to push and it puts both cars at risk I guess, which is understandable," he added.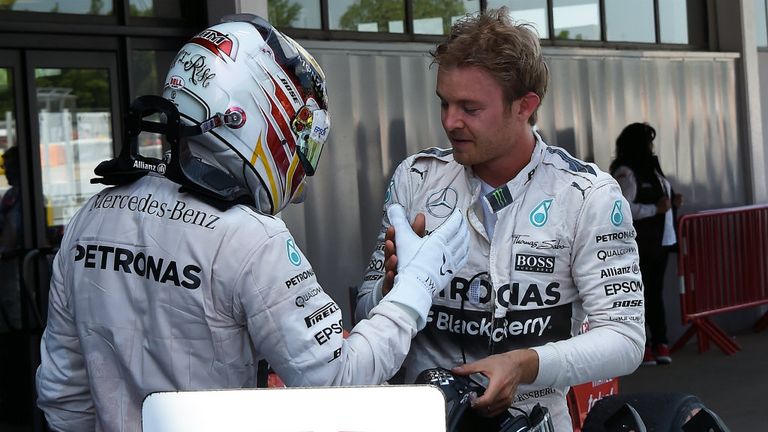 After a slow start off the line, which Hamilton described as "one of the worst I can remember", he was briefly relegated as low as fourth before repassing Williams' Valtteri Bottas around the outside of the first corner.
As Rosberg disappeared into the distance, Hamilton struggled to find a way past Vettel with a botched pit-stop, and the notorious difficulty of overtaking at Barcelona, thwarting his attempted recovery.
"I fought hard but unfortunately this track is the worst for overtaking and it's impossible to follow here. It doesn't matter what you do, you can't get close enough," he said. "Even with DRS, it wasn't enough and I did everything I could behind Sebastian.
"It was damage limitation for me. I was just in recovery."
Hamilton had struggled with his car's balance all weekend but said his W06's handling felt better during the race.
"I was really happy in the car today," he added. "I don't know how my pace was compared to everyone else but it felt really good. I was enjoying it; unfortunately I got a pretty poor pit-stop and my start was really bad."
Rosberg's first victory of the season cuts Hamilton's world championship lead to 20 points after the first five rounds of the 19-date season.