Sky F1 experts stunned by Mercedes' pitting of Lewis Hamilton
"They've completely messed up haven't they?" says Martin Brundle, after dominant race leader Hamilton finishes only third in Monaco
By James Galloway
Last Updated: 25/05/15 9:02am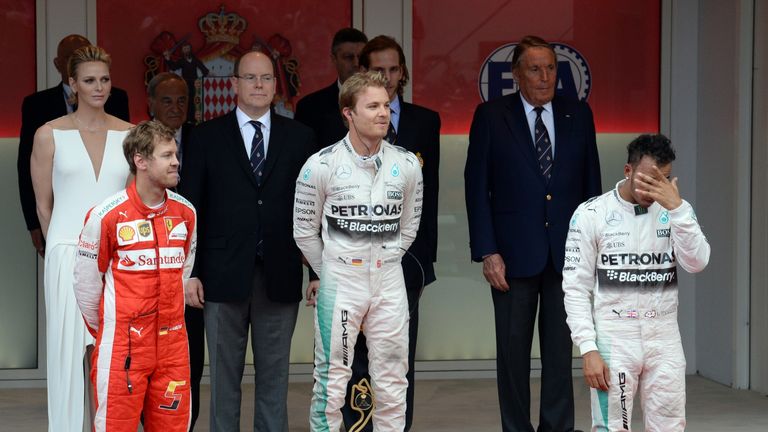 Sky Sports F1's pundits were at a loss to explain Mercedes' thinking behind Lewis Hamilton's race-losing pitstop in the Monaco Grand Prix, with Damon Hill describing the episode as "terribly embarrassing" for the world champions.
Although Mercedes still ended up winning F1's most celebrated event for the third successive season through Nico Rosberg, the team admitted they "screwed up" what should have been Hamilton's win by pitting the runaway race leader under the Safety Car with 13 laps to go.
Reacting to the extraordinary and dramatic events which are set to dominate the F1 news agenda until the next race in Canada, Sky F1's former drivers and experts were left stunned by Mercedes' decision-making after Hamilton finished behind his team-mate and Sebastian Vettel. 
"Terribly embarrassing for Mercedes," 1996 world champion Hill declared.
"They've just signed a three-year deal with Lewis, he's settled in, and it's a very, very odd way to repay your employee – the wooden spoon is what he got when he should be celebrating a Monaco victory!"
Martin Brundle also expressed sympathy for Hamilton after the Briton's dominant race-day performance ultimately went unrewarded.
"They've completely messed up, haven't they? It's going to make a lot of bad smells around the whole thing and you know exactly what the media's going to be all through the week," Brundle predicted.
"Lewis is a winning machine and to see him up on the podium…that's like ripping his heart out to take a Monaco win from him."
Speaking to Sky F1, Mercedes chief Toto Wolff explained after the race that the team's pitwall had anticipated a pitstop from Ferrari for third-placed Sebastian Vettel and were caught out as they believed Hamilton's lead was three-and-a-half seconds bigger than was actually the case.
Nevertheless, Ted Kravitz was baffled as to why Mercedes had even contemplated risking track position given Monaco is notoriously the most difficult circuit to overtake on in F1.
"Even if Ferarri had made a stop, then the Mercedes would have still had track position. What circuit did they think they were at?" he asked.
"Track position is king. Even if Vettel was on the quicker tyre at the end he wouldn't have been able to get past just as Lewis wasn't able to get past him."
Brundle reckoned Mercedes may have been caught out by the sudden change from Virtual to full Safety Car in the moments after Max Verstappen's first-corner accident.
"Critically it went from a Virtual Safety Car to a real Safety Car when you can dash down the pitstraight. You are not restricted," the former Benetton driver pointed out.
While Hamilton was clearly dejected on the podium after finishing behind his two title rivals, the Briton refused to point the finger of blame at his team and instead insisted it had been a "collective decision" to pit.
Hill, while agreeing that blaming individuals would have proved counterproductive for the reigning world champion, suggested it couldn't excuse the enormity of Mercedes' error.
"I understand what he's saying. If you're in a team you can't go round picking on people who have made a mistake. Everyone's going to make a mistake at some time or other and that fortunately was quite a massive, catastrophic mistake for Lewis – and also the team. I know they won the race, but it just made them look very, very poor," Damon added.
"So they have to find out now how it could possibly have happened. I have my view about this: so much is invested in computers, and so much faith is put in simulations, that they sometimes forget what is happening right in front of you doesn't need a computer."
Don't miss the F1 Midweek Report for analysis and reaction to the Monaco GP. Natalie Pinkham is joined by F1 journalist Will Buxton and Lotus reserve driver Jolyon Palmer on Wednesday at 8:30pm on Sky Sports F1.