Sky F1's Martin Brundle reckons Alonso would prefer Button as McLaren team-mate
Button, meanwhile, admits for first time Abu Dhabi GP "might be my last in F1" as McLaren continue to deliberate on Alonso's team-mate
By Pete Gill and Mike Wise at Yas Marina
Last Updated: 25/11/14 5:37pm
Sky F1 pundit Martin Brundle suspects Fernando Alonso would prefer to be partnered by Jenson Button rather than Kevin Magnussen at McLaren in 2015.
Seven years after his partnership with then-rookie Lewis Hamilton ended in spectacular implosion and an instant exit from McLaren, Alonso is understood to have signed a deal to return to the team for next season.
An announcement confirming the team's driver line-up will not be made until December, however, with the McLaren hierarchy still unable to choose between Magnussen and Button as the Spaniard's new team-mate.
Left in limbo as McLaren continue to calculate the merits of his superior form this year against the extra expense of his retention over Magnussen, the 2009 World Champion has admitted for the first time that he may be racing for the final time in F1 this weekend in Abu Dhabi.
"I'm in a good place, I really am – please believe me when l say that," Button told Sky Sports F1 in an exclusive interview that will be broadcast in Saturday's qualifying show. "I'm not stressed, I'm just trying to enjoy this race. It is the last race of the season and it might be my last in F1. Whatever happens, l want it to be a great weekend."
Pressed by reporters to identify his preferred partner for 2015, Alonso shied away from naming either Button or Magnussen in Thursday's press conference. But having destroyed former World Champion Kimi Raikkonen this season at Ferrari, and endured his only reputationally-damaging year in F1 when partnered by a novice Hamilton in 2007, the thought that Alonso would prefer Button to be retained has gained traction in the paddock this weekend.
"Fernando had the experience of the new kid there last time he was at McLaren and l think he would rather have Jenson there. He wants a known quantity and he doesn't want a whippersnapper," suggested Brundle. "He wants experience and he'll be pretty convinced he can beat Jenson – and Jenson will be pretty convinced that 'Hey, I took on Lewis Hamilton in that team and matched him, and I'll do the same so bring it on Fernando'.
"But l am still amazed that Ron Dennis and Fernando will be working together again."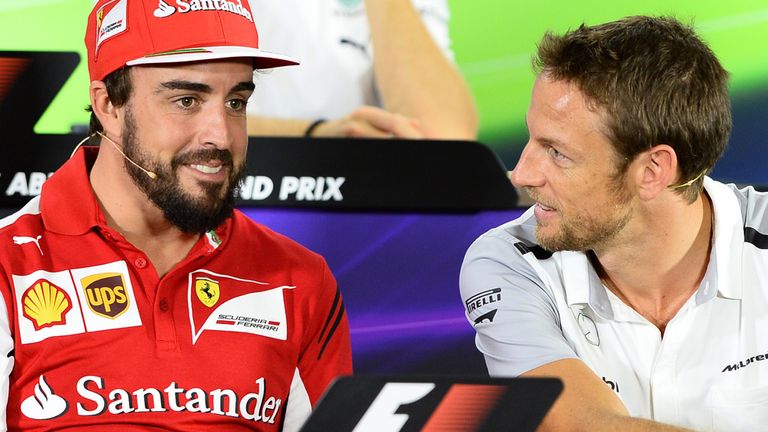 McLaren have endured a social backlash over their refusal to make an announcement about their 2015 line-up until after the season has finished, with one broadsheet newspaper describing their treatment of Button as 'disgraceful'. However, while the delay means that Button may leave F1 for a new career in sports car racing without being given the opportunity to say farewell to a sport he has graced for 15 years, McLaren's procrastination is being interpreted as positive news for Button's prospects given that keeping the younger and cheaper Magnussen is the more straightforward choice.
"It seems absolutely certain that Alonso has signed for McLaren and they are just waiting to decide which driver will be in the other car," added Brundle. "I don't think it's been an easy decision for them. Do they go with the experienced World Champion or do they go with the new kid who has more upside potential but you don't know how much that potential is. It's a tough decision – and they spending a lot of time thinking about it.
"If these are his last races, he deserved a farewell tour. Jenson has handled it very well, with calm dignity, and he deserves an answer so he can move on."
In explaining the delay at the start of the week, McLaren said that "selecting the optimal driver line-up for a Formula 1 team is clearly an important process, and it is therefore one that requires precise and prolonged analysis".
But quite why they need an extra few days to analyse the performances of Button and Magnussen has brought – to say the least – a measure of incredulity whenever the subject has been raised this week.
After all, Button is Britain's most experienced F1 driver and also coming to the end of his fifth season with McLaren, while 2010 was also the year Magnussen joined their Young Driver Development Programme.
Instead, insiders believe that McLaren are waiting on sponsorship Alonso might attract – both the backers he already has and others that could yet come on board.
Assuming they gain sufficient funding to pay Button's wages, then the logic follows that he'll get the nod. Otherwise, the drive will – despite his points deficit to Button in 2014 – go to Magnussen.