Fernando Alonso drives McLaren's simulator at Woking base
McLaren report Spaniard had 'a good day' in the simulator; Ron Dennis says Alonso still committed to new 'project' despite woeful weekend in Australia
By William Esler
Last Updated: 29/03/15 7:13am
Fernando Alonso has returned to work at McLaren and had 'a good day' driving in the team's simulator on Wednesday.
The 33-year-old returned to work at McLaren ahead of a planned return to action at Sepang.
Accordng to McLaren, Alonso had a 'good day', 'focusing on operational work and practising qualifying and race procedures'.
The Spaniard missed the final pre-season test in Barcelona and the season-opening grand prix in Australia after suffering a concussion and temporary memory loss in a crash at the Circuit de Catalunya.
Alonso said he was "giving everything" to be back in the MP4-30 at the Malaysia GP and while his return is yet to be officially confirmed, resuming simulator work is at least a step in the right direction.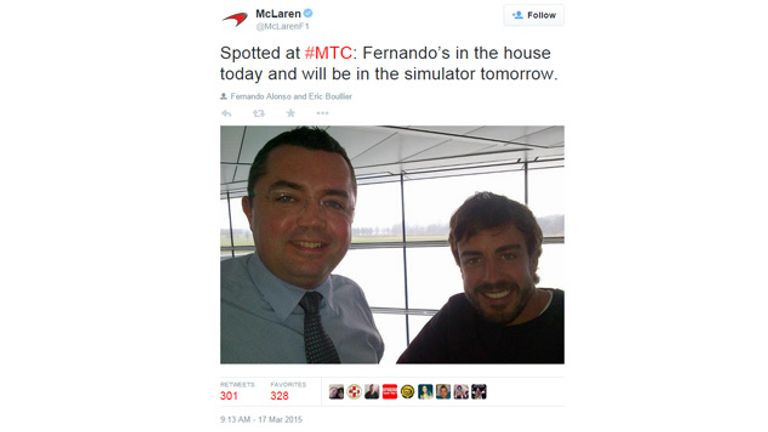 McLaren were the slowest cars during qualifying for the Australian Grand Prix and things went from bad to worse when Kevin Magnussen, who was deputising for Alonso, suffered an engine failure on his way to the grid.
Jenson Button managed to reach the chequered flag, albeit two laps down in last position, and Alonso could be forgiven for not being in a rush to return to the cockpit of the MP4-30.
However, Ron Dennis says his marquee signing is eager to return the McLaren-Honda partnership to winning ways.
"I can show you the texts that he was sending me last night [Saturday]. The word that made me smile was 'relish', meaning relishing the challenge," Dennis assured Sky Sports F1's Martin Brundle ahead of the race.
The cause of Alonso's accident remains unclear, but both Dennis and Jenson Button are convinced that the Spaniard was not knocked unconscious by an electric shock from the energy recovery system.
"My gut feeling is, and it seems so difficult for people to believe it could have been a gust of wind, but it was very, very gusty so it could have been that," Dennis said.
"It could have been a lapse in concentration for a minute because Fernando wasn't actually taking the corner at full speed. There is a lot silliness out there as there always is, but he definitely wasn't electrocuted.
"The level of testing that Fernando went through with every scan known to man and there is absolutely no trace of anything wrong."
Button added: "From a driver's point of view that wasn't involved in the incident you want to understand exactly what happened in terms of what happened with the car, was there an issue? So every single bit of data I have gone through and I see nothing that points towards a car failure.
"And 100 per cent it was not an electric shock, so I am happy that there is nothing wrong with the car and I have the confidence to push the car to the limit."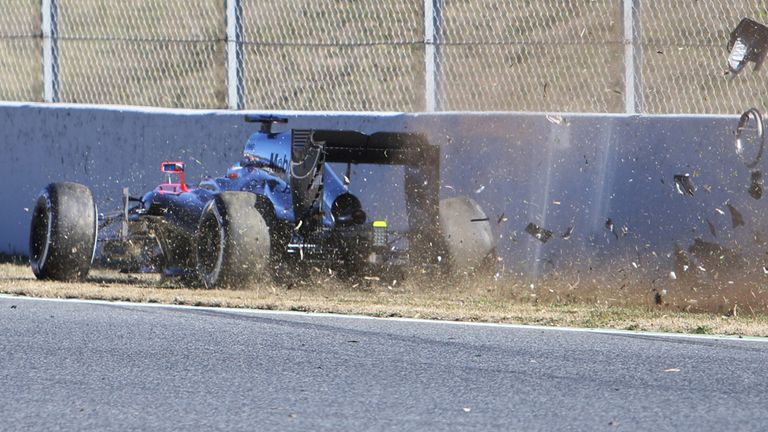 There will have been plenty of data for Button to go over with Dennis, confirming the team held a wide-ranging probe into the accident.
"We conducted one of the most intensive investigations McLaren has ever conducted on the car – it wasn't that badly damaged – we have a reputation for being a technology company, we do all the crash research for the FIA, we pioneered the use of carbon fibre, so I think we are very well equipped to understand why an accident happens," he said.
"It certainly wasn't because of a car failure, of that we are absolutely sure." 
The Midweek Report returns at 8.30pm on Sky Sports F1 on Wednesday with Mike Gascoyne and David Brabham joining Natalie Pinkham in the studio to analyse events in Melbourne.