Kimi Raikkonen says Ferrari can win this year's world title
Finn confident Scuderia will start to "regularly beat" Mercedes
By William Esler
Last Updated: 21/04/15 1:02pm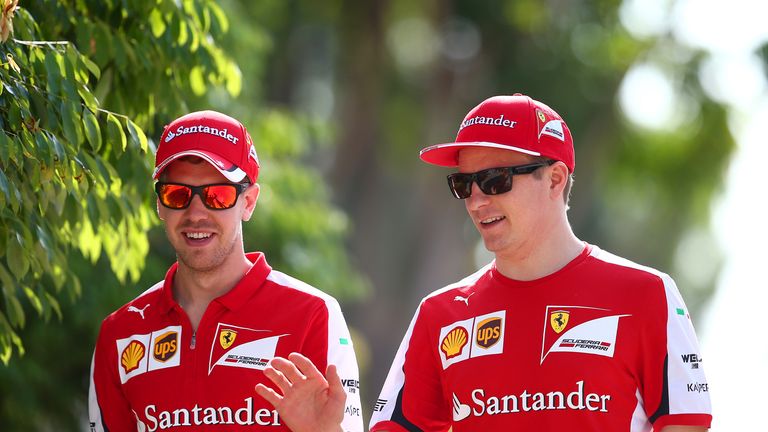 Kimi Raikkonen says Ferrari can win this year's world title, declaring that they will start to "regularly beat" Mercedes.
The Silver Arrows have dominated F1's new turbo-era as they marched to a championship double in 2014 and in 2015 have won two of first three races, taking pole at each.  
The only blip on that record was Sebastian Vettel's win for Ferrari in Malaysia and Raikkonen believes a resurgent Scuderia can start to regularly beat Mercedes.
"I don't see a reason why not," said Raikkonen.
"We have made big gains and we will continue to make big gains during this year.
"Obviously everybody will improve, so it depends what the rest are doing, but we are definitely going the right way and doing the right things.
"It is about being patient. We need time, we cannot make miracles overnight.
"Sebastian showed we can win (in Malaysia last month), but it depends as one circuit may be better for one team and the next could be a different story.
"We just need to be up there when something happens to them, or the conditions change, but I really feel on speed we will get there to regularly beat them."
Ferrari didn't have the pace to match Mercedes in China and Raikkonen's task was made harder by an error in qualifying which saw him start behind both Williams cars. Having been hammered 16-3 by Alonso in qualifying last year and already trailing Vettel 3-0, the Finn knows he needs to improve his Saturday performances.
"After my mistake fourth was more or less maximum," added Raikkonen.
"I probably could have tried (to pass Vettel) at least, but there was a safety car at the end. It is what it is.
"After what happened on Saturday we at least gained some positions and we had a pretty good car.
"But we are not happy. We have to make Saturdays more correct as it gives you bigger chances and an easier life in the race.
"It doesn't help when you put yourself in a more difficult position for the race, especially one where it is never easy to overtake."
Raikkonen produced arguably his best race of the season in China as he dispatched the Williams cars of Felipe Massa and Valtteri Bottas on the opening lap and he was catching Vettel during the final stint. Team Principal Maurizio Arrivabene was delighted with the Finn.
"I am very, very happy for Kimi. Because we are there now not only with Seb, but also with him and this is very, very good news," he told Sky Sports F1.