Mercedes say substance contamination at root of Nico Rosberg's Singapore retirement
Substance regularly used in pre-event servicing to blame; Merc to use fresh parts from Japan as team aim to get on top of reliability
By Sky Sports Online
Last Updated: 29/09/14 12:07pm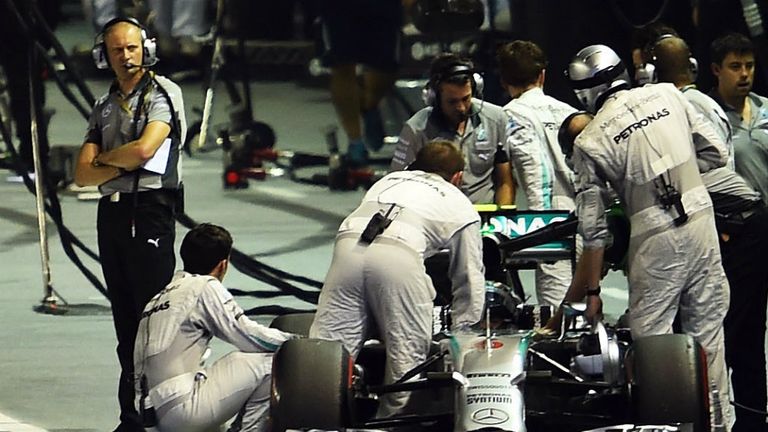 Mercedes have promised to keep working hard to eradicate reliability problems from their dominant W05 car after tracing the electronics short-circuit that put Nico Rosberg out of the Singapore GP to a substance contamination.
Rosberg's race at Marina Bay was effectively run even before the start when an electronics wiring loom fault in his car's steering column forced him off the grid and into a pitlane start. Although the German driver was able to get going at the back of the field, his car circulated slowly for 13 laps before Mercedes called a halt following a problematic pitstop.
Having vowed to get to the bottom of the problem which caused the fourth mechanical retirement of the season across their two championship-leading challengers, Mercedes have since confirmed that a "foreign substance" routinely used in the pre-event servicing of their cars had caused the problems. New parts will now be used for the season's final five races.
"Forensic analysis has revealed that the steering column electronic circuits were contaminated with a foreign substance The contamination was not visible and did not manifest itself until Sunday as Nico went to the grid," Mercedes revealed on Twitter.
"The result was an intermittent short circuit in the electronic circuits meaning @nico_rosberg could not command clutch or engine settings
"Fresh parts will be used at the forthcoming races. Our hard work on reliability processes will continue at the same intensive level."
With conspiracy theories continuing to abound amid the tense all-Mercedes title duel between Rosberg and Lewis Hamilton, Mercedes later tweeted: "To clarify, the contaminant was a substance used in normal pre-event servicing of the component. #NotAConspiracy :)"
Despite having won all but three of this season's 14 races so far heading into this weekend's Japanese GP, the fight for the Drivers' Championship between Mercedes two drivers has been increasingly blighted by interventions of unreliability.
Rosberg and Hamilton have now suffered two race-ending technical failures apiece on their respective W05s, with the latter having had two qualifying sessions in recent months ended by reliability faults.
The 2014 Japanese GP is live on Sky Sports F1 this weekend. Coverage begins with Practice from 1.45am on Friday.