Nico Rosberg vows to maintain 'intense' Lewis Hamilton fight
German has fallen to third in the world championship behind Hamilton and Vettel following surprise Ferrari win in Malaysia
By Pete Gill
Last Updated: 21/04/15 3:17pm
Nico Rosberg has vowed he will maintain his "intense" battle with Lewis Hamilton during 2015 and insisted their rivalry works in the best interests of Mercedes amid the first murmurings that the world champions may introduce team orders to ward off the mounting threat from Ferrari.
Sebastian Vettel's unexpected victory in Malaysia two weeks ago propelled the Ferrari driver into second place in the nascent drivers' championship and has persuaded Mercedes, stunned by their first bona fide defeat since the dawn of F1's new turbo era, to fast-forward the introduction of new development parts for this weekend's Chinese GP after an emergency summit meeting at their Northamptonshire HQ.
Rosberg has so far been a peripheral figure this year, losing out to the Englishman in both Australia and Malaysia and offering a meek defence to Vettel's charge to victory in Sepang two weeks ago. But the German, who scored his maiden F1 victory in Shanghai three years ago, is adamant that Mercedes would be better served maintaining equality between their two drivers rather than instructing one of them to act as a buffer against the rising red tide.
"That definitely won't be the case," Rosberg insisted to Sky Sports News HQ. "It will still be the same. We are going to have an intense battle and the rivalry we continue. Of course, we will have to keep more of an eye on the opposition, particularly Ferrari, but it isn't going to change much - anyways, our rivalry has always been constructive. There have been difficult moments but all in all it has been pushing each other to a higher level and helping the team forward."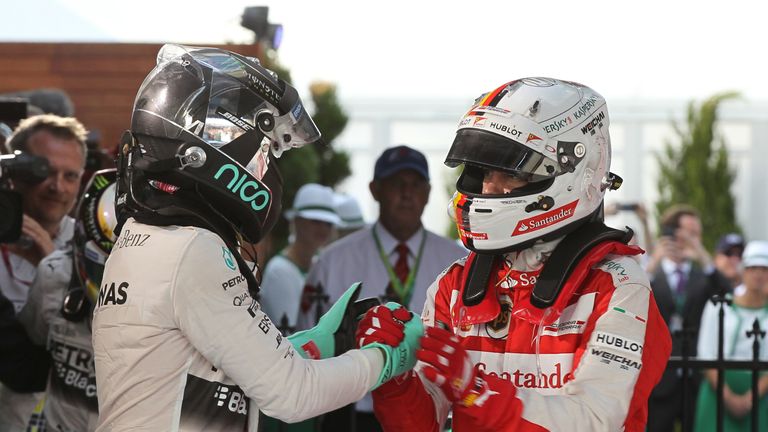 Compared to the spiky character of 2014, Rosberg has been a subdued presence so far this season, and surprised many in the public by hailing his erstwhile title rival as "driving like a world champion" following Hamilton's cruise to victory in Australia. But asked whether he had lost the fighting spirit which made him such a tough opponent for Hamilton to overcome last year, Rosberg bristled at the notion that he had gone soft.  
"It was just a matter of fact in that moment," Rosberg responded. "My start hasn't been 100 per cent but it hasn't been that far off either. The track really suits me and we have an awesome car so it should be a great weekend and the win is possible."
Trenchant words, but ultimately Rosberg knows it's his talking on the track which will carry the loudest message. "I want to do better in the next couple of races and it's down to me," he added.
In a rare example of solidarity, Hamilton and Rosberg travelled together by private jet to Mercedes' Brackley base last week to participate in an all-encompassing inquest into their defeat to Ferrari in Malaysia. Radio communication, race strategy and the W06's ability to maintain the Pirelli tyres as well as the Ferrari are all likely to have been at the top of the agenda.
"Malaysia was definitely very close to being a shock to us because we didn't see it coming at all," conceded Rosberg. "We were convinced we would be the dominant force in the race and suddenly they were stronger than us and beat us fair and square. We had to put our thinking caps on and get together to think about what we can do better - and we have come up with a lot of things. I'm very confident for the weekend."