Nico Rosberg unhappy with Mercedes 'pressure' during qualy
German told to speed up on his final warm-up lap in qualifying
By Pete Gill
Last Updated: 13/04/15 2:28pm
Nico Rosberg has accused his Mercedes team of putting him under unnecessary 'pressure' during the final stages of qualifying in China.
An exasperated Rosberg was heard to shout "come on guys!" after missing out on pole position to team-mate Lewis Hamilton by a mere four-hundredths of a second in Shanghai and explained afterwards that he was unhappy with the team's instruction to speed up on his warm-up lap.
Although Rosberg refused to blame his qualifying defeat to Hamilton on the order, the extra slither of grip he used as he sped up on his warm-up lap may have been the difference between the German snatching pole out of his team-mate's grasp and suffering his third defeat in as many Saturdays to the Englishman at the start of 2015 by the narrowest of margins.
"We need to look at that as that was not ideal to put me under pressure like that," a terse Rosberg told Sky Sports F1.
"I don't think it cost me anything, but even the mind-set to know that I have to speed up a bit…so we need to look into that."
Whether Rosberg would have been as frustrated with Mercedes' order had he sneaked over the line ahead of Hamilton is a moot point. Having played second fiddle to the world champion through practice, Rosberg was beaten to pole by less than a tyre turn in a dramatic finale to Saturday's action.
"Other than that the lap was good and it is very annoying as the lap is never perfect so four hundredths is always in it," he rued.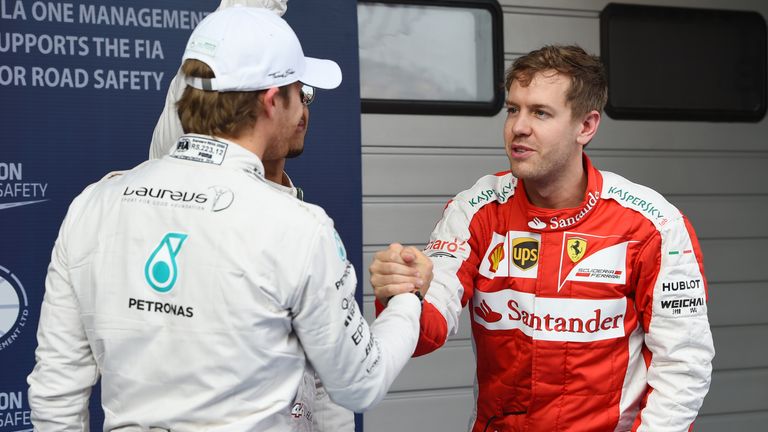 Sepang victor Sebastian Vettel will start from third in the Ferrari, leaving Rosberg with plenty to think about ahead of Sunday's race.
"Tyre degradation is going to be a big issue tomorrow as we are going to take the tyres right to the limit. So there are many opportunities," the Mercedes driver added.
"Ferrari are a threat for sure as they have good race pace – it is not just Malaysia, it is everywhere. So I hope we have a bit of an edge on them, but it could be close."