Romain Grosjean admits it's a case of damage limitation for Lotus in early 2014
Frenchman placing hope above expectation after tough pre-season
By Mike Wise
Last Updated: 05/03/14 8:58am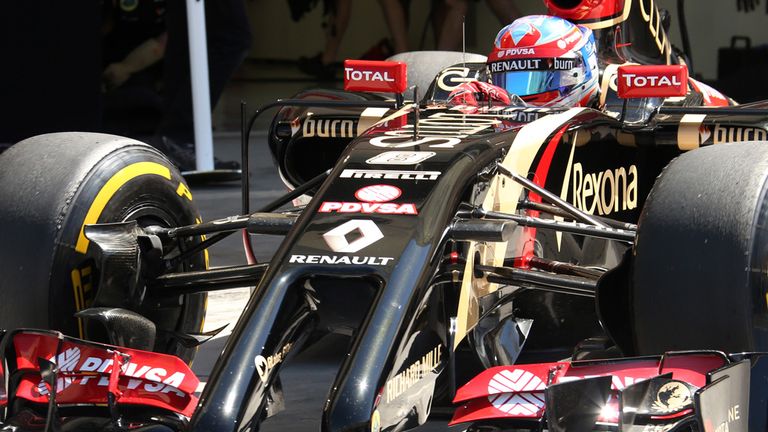 An engine failure brought a premature halt to the Frenchman's last day in the cockpit of the E22 at Sakhir on Sunday, with Lotus finishing F1's pre-season programme as far-and-away the least prepared team.
Ahead of next weekend's season opener in Melbourne, Grosjean has therefore had much less chance than his rivals to adjust to F1's new breed of hybrid cars. With Lotus heading to Australia without undertaking any race or qualifying simulations, the 27-year-old knows his lack of running leaves him on a steeper learning curve.
Losing out on track time after the Enstone team failed to debut their car in Jerez, Grosjean is still learning the intricacies of its Renault power unit - such as the different mappings he must use to manage energy during a race weekend and the new brake-by-wire system it has ushered in.
What hasn't helped, of course, are the reliability problems Renault has been grappling with. Mercedes driver Nico Rosberg has, by contrast, completed almost six times more running than Grosjean, with the latter's expectations necessarily lowered.
"We did as much as we could from the limited amount of running we had," he said on Sunday evening, as rival cars continued to pound round the Bahrain International Circuit. "There were things that went in the right direction, which was quite nice. I think it's more complicated than everyone thought, this power unit, and there's a lot of work on our side and a lot of work on Renault's side.
"We are not in a nice and straightforward situation but we'll try to do as much as much as we can on our side and I'm sure Renault will try as well. There are two weeks before Australia, hopefully there'll be some brightness in the future."
With Lotus now forced to continue their pre-season programme in Melbourne - Grosjean admitted he had yet to run the car at full power or even attempt a practice start - the early races will be more about hope than expectation.
"We go there trying to score points," he said of the season-opener. "Being there to compete is nice but we're not where we want. We are not in a nice situation but it doesn't mean we won't recover. And if we then try and score as much points as we can early in the season then we can try to recover.
"Honestly, I'm not happy tonight. It's far from ideal, we didn't do a third of what we wanted to, but what can you do?
"The sun will come tomorrow, we'll wake up and work hard. It's easier to run away, just shout and go; but it's better to sit down with the engineers, to go through everything we've been doing, see the positives somehow and then trust the people that have to do the work.
"The best I can do is drive the car as quick as I can and see where we are."