Christian Horner praises 'fantastic' Daniel Ricciardo and backs driver's luck to turn
Red Bull chief says luckless Aussie proved he is "an absolute racer"
By James Galloway and Mike Wise
Last Updated: 31/03/14 4:16pm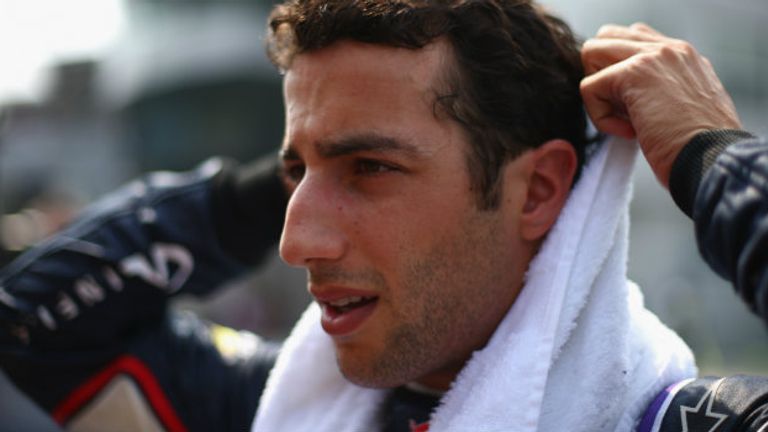 Ricciardo, who had already suffered the heartache of being stripped of his maiden F1 podium on his debut for the World Champions in Australia, suffered a multitude of misfortune in Sunday's Malaysia GP which scuppered a likely fourth-place finish behind team-mate Sebastian Vettel and eventually earned him a ten-place grid penalty for this weekend's Bahrain GP.
But while the sequence of disappointments mean that Ricciardo actually props up the nascent Drivers' Championship, his Red Bull Team Principal says they haven't clouded the outfit's delight with him.
"Daniel was fantastic," Horner told reporters at Sepang on Sunday night.
"Anybody that said he was not committed enough over the first lap or so, I think he proved any doubters absolutely wrong. He's an absolute racer.
"He got stuck in, he made the pass on Alonso, he went around the outside of Seb. They gave each other enough room to work with and he nearly had a run at Rosberg as well.
"So everything we've seen of Daniel is enormously impressive. The way he handles things and the way he handles adversity. Today didn't go his way, he gets out of the car, he has a smile on his face and he knows that it will come right."
After taking advantage of weekend-long reliability issues for Vettel in Australia to outqualify the quadruple World Champion at the first attempt, Ricciardo lined up behind the German at Sepang but at the start of the race overtook him around the outside of Turn Two, before Vettel reclaimed the place three laps later.
The GP marked the 12-month anniversary of the Multi-21 controversy, when Vettel ignored team orders to go wheel-to-wheel with Ricciardo's predecessor Mark Webber, but Horner said he never had any concerns over the latest example of team-mate combat.
"I think for any team it's a nervous time at any point, but there wasn't that sense of anxiousness today. They both gave each other enough space; there was no moaning over the radio or anything like that. They just got on with it," he said.
Despite already serving a stop/go penalty for Red Bull's unsafe pit release of his car during Sunday's race prior to his retirement, Ricciardo became the first recipient of the new-for-2014 double penalty for such offences, with a ten-place grid drop to now be imposed on him in Bahrain.
Horner admitted Red Bull had to take the punishment on the chin.
"The rules are pretty clear," he conceded. "For an unsafe release it's a stop/go penalty of ten seconds and a ten-place grid penalty at the next race. Whilst the punishment is harsh for the crime, unfortunately it is the rules."
The team boss also revealed exactly what had gone wrong in the stop after Ricciardo was released from his pitbox with a loose front-left wheel.
"It went on okay, it was done up," Horner explained. "The gunman felt that something wasn't quite right and in going to check and put an extra couple of turns into it, the latch on the gun had switched back and so he effectively undid it.
"So it was one of those things. The pit crew do the fastest pitstops in the pitlane and a mistake was made. But that's how it goes sometimes."
He added that the team were still investigating the cause of Ricciardo's subsequent front-wing breakage.