GP2 star Jolyon Palmer reveals he is in negotiations about an F1 race seat in 2015
Briton is currently leading the standings in the feeder series
By William Esler
Last Updated: 30/06/14 1:03pm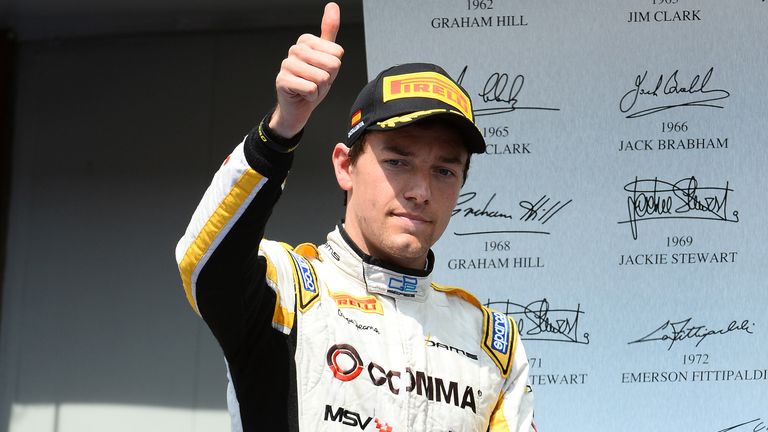 GP2 Championship leader Jolyon Palmer has told Sky Sports talks are progressing about a Formula 1 race seat in 2015.
The Briton is yet to test an F1 car, but has impressed in GP2 this year starting the season in style with five podiums in the first five races, including two victories to open up a healthy advantage at the top of the standings.
The 23-year-old's qualifying pace has also been impressive, having secured himself a frontrow start for every Feature Race this season and he has revealed he is now in negations about an F1 race seat.
"Things are progressing," Palmer told Sky Sports Online. "So far this season things have been almost perfect for me minus the little blip in Austria, but really everything is coming together well. There are some Formula 1 talks progressing, but not much I can say at the moment.
"But definitely I am aiming to be on the grid next year in 2015 and at the moment win GP2. We are moving closer, but the one big focus at the moment is to win GP2."
Next up for Palmer is his home race at Silverstone and the Sky Sports columnist cannot wait to race on home soil.
"I'm really excited coming to Silverstone," he added.
"When I started to do well at the start of the year I just really wanted to come to Silverstone with the championship lead and it has gone really well this season so now coming to Silverstone off the back of the position we are in is great. It is a track I know really well, a track I have done well on in the past and it would be the dream result to get a win or at least a podium in my home race."
The Briton had a difficult weekend in Austria last time out where he struggled for race pace and saw his lead in the Drivers' Championship cut.
"The pace that we have had all season has been really strong – we have been on the frontrow every time – but Austria we just didn't quite put it all together in the races," Palmer said.
"Fifth and sixth places were not what we were looking for and I lost a few points in the championship, my lead went down to Felipe Nasr, so it is the perfect time for Silverstone to come for me just to get everything back on track and get back to winning ways."
You can hear more from Jolyon in the Sky Sports F1 British GP preview podcast which is available to download here and you can read his latest column here.