McLaren's Eric Boullier keeping a close eye on Kevin Magnussen's development
Boullier reveals he is taking a similar approach to one with Grosjean
By Sky Sports Online
Last Updated: 01/04/14 3:28pm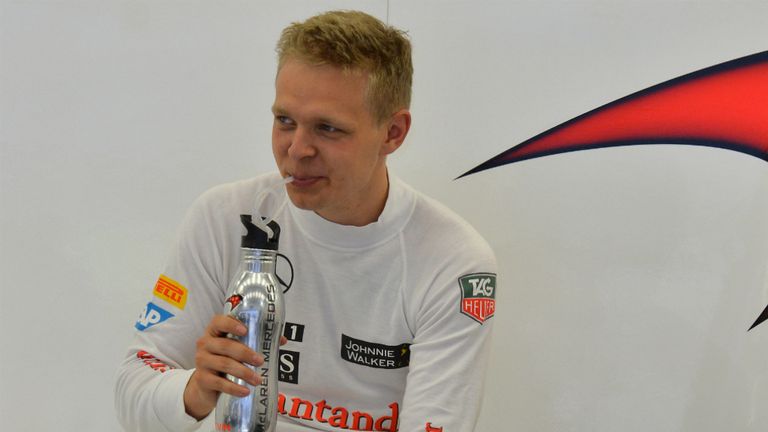 Magnussen hit the back of Kimi Raikkonen's Ferrari at Sepang and required a new front-wing - he was hit with a five-second stop-go penalty on top - but he did recover to claim two points for finishing ninth.
The Dane apologised after the race and said there was no excuse for his mistake, but Boullier revealed he has taken him under his wing in a mentoring role and feels it is all part of the learning process for him.
"What happened in Malaysia on Sunday is something for Kevin to learn from," Boullier said.
"It was a rookie mistake, some sort of excitement, and maybe the old guy (Raikkonen) was playing as well and the youngster was trapped.
"Kevin was penalised, but even after that he remained quiet, focused, he didn't over-react, he did nothing wrong.
"Despite a front-wing change and a five-second penalty, we explained our strategy to him to make sure he finished in the points and he just did it, so it wasn't bad.
"But we still need to develop him carefully. Twice a weekend, certainly at least once, we have a long chat.
"I'm monitoring very carefully his state of mind, the way he behaves. I'm watching him a lot, like I did with Romain (Grosjean). I'm trying to lock him in a room at least once a weekend to make sure he is okay.
"We sat down twice in Malaysia for 10 minutes, which is enough, and he is very open minded, so everything I tell him - like advice let's say - he is listening."