Max Verstappen hits back at Felipe Massa over Monaco crash criticism
Rookie tells Williams driver to look at his own crash in Canada in 2014
By William Esler
Last Updated: 05/06/15 11:34am
Max Verstappen has hit back at Felipe Massa and told him to look at the 2014 Canadian GP after the Brazilian again criticised the Toro Rosso driver for his Monaco crash.
The Dutch teenager hit the rear of Romain Grosjean's Lotus at Sainte Devote as the pair battled over the final point in Monte Carlo two weeks ago. 
After the race Massa branded the driving "dangerous" and suggested Verstappen was too inexperienced for F1, views the Williams driver repeated in Thursday's drivers' press conference in Montreal.
"After the race I said 'I think he needs to be penalised because what he did was wrong'," Massa said. "I think especially when you are in your first race and you are 17-years-old and it is not penalised it is completely wrong.
"I think the FIA needs to be strong in the proper way and they were. I don't change my mind, we need to follow the rules and I thought what he did was wrong."
Verstappen, though, hit back with a cutting remark, suggesting Massa should rewatch last year's Canadian Grand Prix when the Brazilian had a coming together with Sergio Perez late in the race.
"Everyone can have their opinion, but look at my data and I didn't brake any later, I have braked later in the race before that," Verstappen said.
"The lap I crashed [my braking] was exactly the same as the lap before and, well, I got my penalty and now I am focussing on Canada. Maybe you should review the race from last year and see what happened there."
He then resolutely added: "I will not change my driving style."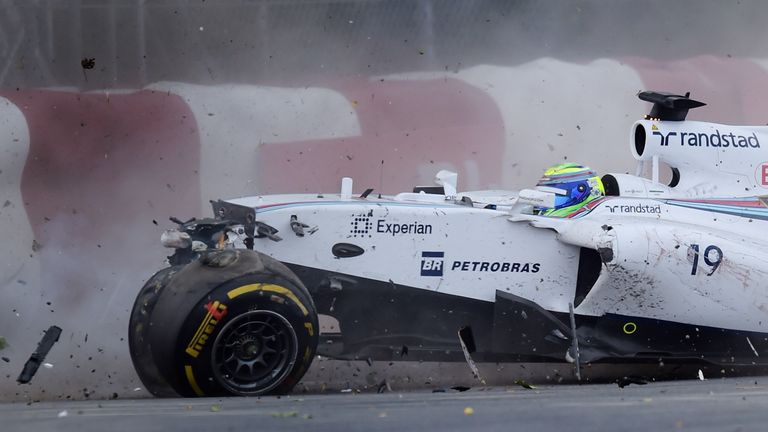 Indeed, such was his belief that it was simply a racing incident, Verstappen said he wouldn't do anything differently if he had the chance to drive the lap again.
"Not much. I was attacking, I wanted to reach the points, especially after the pitstop we had," he said.
"Maybe I could have turned a bit more to the right to avoid it a bit more and maybe try to do it on another lap. But I think there are not too many things I had to do differently."
Verstappen will take a five-place grid penalty into this weekend's race, adding to what is already likely to be a difficult event due to the Renault engines deficit to Mercedes and Ferrari on Montreal's long straights.