Ryder Cup: Tom Watson hits back at Phil Mickelson over Gleneagles tactics debate
Last Updated: 29/09/14 1:01pm
American Ryder Cup captain Tom Watson has hit back at Phil Mickelson in the wake of Europe's emphatic victory at Gleneagles.
After the US team had fallen to a third consecutive defeat in golf's showpiece event, 16½-11½, Mickelson caused controversy by appearing to question Watson's decisions and highlighting the success of former captain Paul Azinger, who led the team to victory in Kentucky in 2008 by the same score.
Talking to Sky Sports News HQ the morning after defeat, Watson said: "The issue between Phil and myself is basically a difference of opinion.
"He has a difference of opinion where he would like to manage the team and I certainly had my own opinion on how I'd manage the team.
"That's the controversy and that's the issue but I have to say that I'm very proud of my team's efforts. One thing I asked them to do from the beginning was to give absolutely everything they have and they did. They just ran up against a buzz saw.
"The European team was very strong and had four of the top five players in the world. When you play against them, you better be firing on all cylinders and frankly, we weren't so that's it."
The European team's celebrations continued into the morning but although Justin Rose revealed they spent four hours in the US team room, Watson himself was in no mood for partying.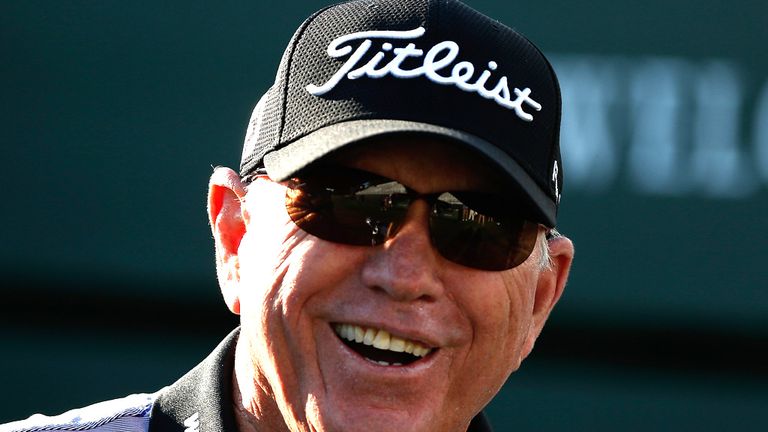 McGinley was an outstanding captain and did a much better job of captaining than Watson. I'm not saying Tom was bad but McGinley was more in-tune and understood his team better.
Butch Harmon
The 65-year-old said: "I went to bed early. I had to retire early but I think some people were up late and had a good night. It was a good night for everybody out there."
Hunter Mahan, who sat next to Mickelson during the initial press conference, attempted to play down suggestions there was a major rift between Watson and the Californian.
Mahan told Sky Sports News HQ: "I don't think there's a spat. I think there are two strong-willed guys who want to win.
"Hindsight is 20-20 and you never know what's going to happen. Both guys worked hard this week and everyone's frustrated we didn't get the win.
"It still stings. It's still tough. We came here on a mission to try and get the Ryder Cup back this week. We weren't able to do this but we grew closer together as a team.
"We're just trying to lick our wounds right now. Hopefully we can get something out of this week and do better. Europe have kicked our butts the last few times and they've got a good formula. We've got to find a way to make it happen."
Mickelson made his point in the post-competition press conference, with Watson sat just yards away.
"There were two things that allowed us to play our best that Paul Azinger did: one was he got everybody invested in the process," said Mickelson, who was making a record 10th appearance for the US and was understood to be unhappy at having to sit out the whole day on Saturday for the first time in his career.
"He got everybody invested in who they were going to play with, who the picks were going to be, who was going to be in their pod, when they would play, and they had a great leader for each pod.
"The other thing that Paul did really well was he had a great game-plan for us; how we were going to go about doing this, how we were going to go about playing together, if so-and-so is playing well, if so-and-so is not playing well - we had a real game-plan.
"Those two things helped us bring out our best golf. We use that same process in the Presidents Cup and we do really well.
"Unfortunately we have strayed from a winning formula in 2008 for the last three Ryder Cups and we need to consider maybe getting back to that formula that helped us play our best."
Asked whether he was consulted in any of the decision-making, Mickelson added: "No. Nobody here was, in any decision."
Sky Bet, meanwhile, have installed Mickelson as an 8/1 shot to captain the USA team against Europe in the 2016. David Toms is the 7/2 favourite to succeed Watson.