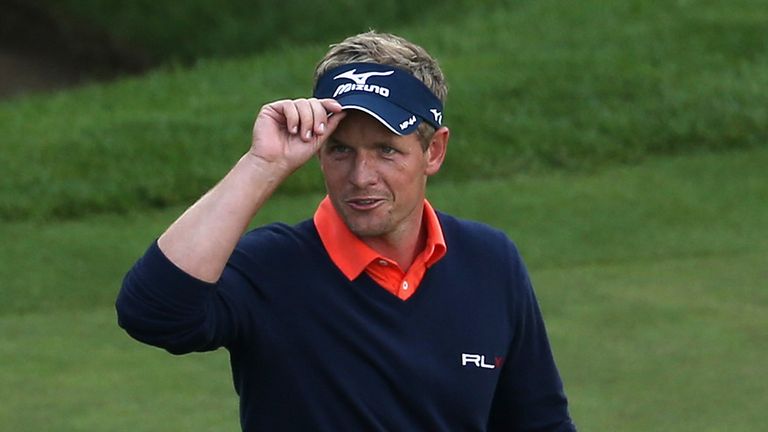 Luke Donald admits he had only himself to blame for missing out on a place in Europe's Ryder Cup team in September.
The Englishman endured a frustrating season as he managed only three top-10 finishes in 17 starts on the PGA Tour, slipping to 34th in the world rankings after starting the year in the top 10.
Donald failed to secure an automatic place in Europe's Ryder Cup team, and his superb record in the event was not enough to earn a captain's pick as Paul McGinley opted for Ian Poulter, Lee Westwood and Stephen Gallacher.
McGinley guided Europe to a comfortable five-point victory at Gleneagles, and Donald has expressed his anger at not being part of the team for the first time since he missed out in 2008 due to injury.
"It was disappointment mixed with anger," Donald told The Telegraph. "I could have been picked ahead of Lee, Stephen or Ian and feel I could have justified the wild card.
The last few months I did not play well at all and you realise you can't blame anyone but yourself
Luke Donald
"But it was not anger directed at Paul or anyone, just at the fact I'd put myself in that situation. Let's face it, but for a few instances during the season I would have qualified by right.
"The last few months I did not play well at all and you realise you can't blame anyone but yourself. Not to say the disappointment didn't sit with me for a few weeks. It did."
Donald was gracious enough to send a message of congratulations to McGinley, and he paid tribute to the Irishman for leading Europe to a third successive Ryder Cup victory.
"He had a job to do and did it amazingly," Donald said. "I have nothing for Paul but admiration.
"Of course, you always want to play in the Ryder Cup, it's provided probably my most enjoyable moments in the game.
"When I saw the guys on TV, I did feel a bit jealous. It was hard to watch the last day, but I couldn't tear myself away. It's great theatre, there's nothing like rooting for the guys."
Donald is now focused on climbing back up the world rankings next season, and he has started by going back to his former coach Pat Goss after his swing change under the guidance of Chuck Cook failed to pay off.
"I lost sight of what made me successful," he said. "I focused too much on my what I perceived as my weakness and forgot about my strength, which is from 150 yards and in.
"When I was world No 1, I probably wanted that major too much. I came close to winning majors under Pat but figured I needed to be a better ball-striker, figured there had to be an overhaul of the whole package.
"But I'm not a 'big picture' sort of guy. I prefer making small improvements each day. Pat understands that and for the first few weeks we didn't talk about swing, just did some really good work on my wedge play and putting. I'm ready to compete again."