Brooks Koepka denies spat with Ryder Cup team-mate Dustin Johnson
'This Dustin thing I don't get. There is no fight. There is no argument. He is one of my best friends'
By Shona Duthie
Last Updated: 03/10/18 3:29pm
Brooks Koepka says there was no bust-up or disagreement with Ryder Cup team-mate Dustin Johnson.
French newspaper L'Equipe reported there had been an alleged altercation on the plane journey to Paris ahead of the tournament.
Koepka and Johnson were paired on day two of the Ryder Cup, but lost 2&1 in the foursomes to Europe's Justin Rose and Henrik Stenson.
Team USA went onto lose 17.5-10.5 and questions have been asked whether there was a disharmony among the Americans.
Koepka said: "This Dustin thing I don't get. There is no fight. There is no argument. He is one of my best friends. I love the kid to death.
"We talked on the phone Monday and yesterday so tell me how we fought? I don't know. People like to make a story and run with it.
"I mean it is not the first time a news story that isn't true has gone out. But as far as the team's camaraderie I thought it was fine, perfect.
"The problem is you guys [reporters] try to find a reason why we lost. The simple reason was we didn't play good enough. We didn't make the putts.
"We didn't hit the fairways, especially me as I lost two matches and halved another one. If I had won those, if Tiger [Woods] wins his and Dustin lost one with me and then he lost in the singles.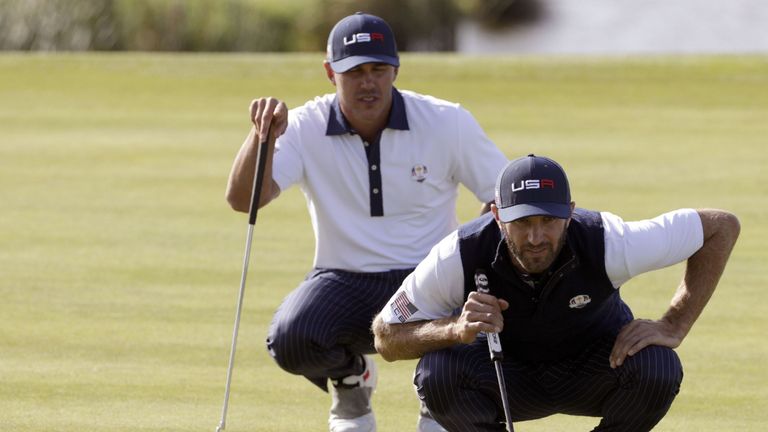 "If we go there and play how we are supposed to play we win. It's simple as. We didn't play good enough but there is nothing wrong with our team.
"Our team is great, Jim [Furyk] was great and that is just you guys trying to find an excuse as to why we didn't win and it's just very simple."
The 28-year-old, who is ranked third in the world, won one fourball match and gained a single half point in the four matches he played.
Koepka is currently preparing to play in the Alfred Dunhill Links Championship at St Andrews, live on Sky Sports.