Dream On - the film
John Richardson's best-selling golf book 'Dream On' is being made into a film. Dave Tindall finds out more.
By Dave Tindall
Last Updated: 11/01/12 10:54am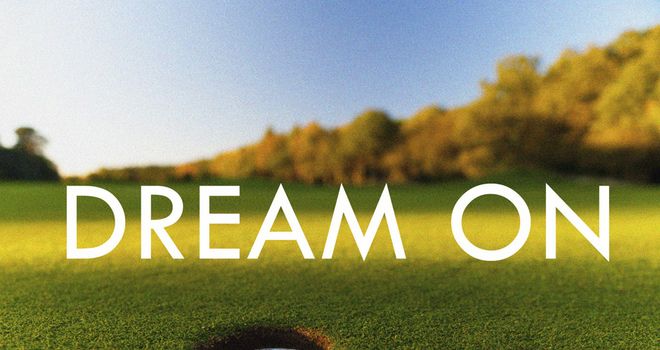 In 2009, 'Dream On' caught the public's imagination so much that it shot to number one in the Amazon sports book charts.
John Richardson, a hacker who couldn't break 100, had set himself the slightly ludicrous goal of playing a level par round within a year.
So tough was John's challenge that, on hearing about his crazy mission, Sam Torrance told him to 'dream on' (hence the title of the book). But, unperturbed, John set about his task with manic determination and the story of his rollercoaster journey is both funny and inspirational.
Those who read the book quickly realised that it would also make a cracking film and rumours soon spread that it would hit the big screen.
I was lucky enough to meet John at the 2009 Open in Turnberry where he gave me a copy of the book and and the following year I flew to Northern Ireland to play a round of golf with him at the venue, Blackwood, where he had carried out his challenge.
His tour included a trip to the range where a young Rory McIlroy had honed his glorious swing, one that John had watched to help him on his mission.
When I asked John back then whether the film rumours were true, he replied: "Yes! And, of course, that's incredibly exciting. Whether it comes off or not I don't know but I've been told that there's a very good chance that it will.
"I don't think anyone writes a book without at some stage having their imagination and ego grasping them and, probably after a few drinks, thinking 'this would make a great film'.
"And I'd be lying if I hadn't thought that this would make a great film! So, we'll see. I discovered the hard way how long publishing takes and the frustrations involved (it took four years for the book to hit the shelves) so I can't see how the film world wouldn't be the same."
Well, after reading some of John's recent tweets it appears that day is ever closer.
I got back in touch last week to find out more.
Sky Sports: The million dollar question. Will 'Dream On' the movie be hitting the big screen in 2012?
John Richardson: What I can say for certain is that the film will be shot this year. It's currently in pre-production at Elstree studios and will be delivered by October 2012. It's likely to then be ready for the cinemas some time in 2013.
Sky Sports: Has it been cast yet? Back in 2009, you said you would be happy to be played by Brad Pitt - although not as happy as your wife as long as she could play herself!
JR: We're still talking to a number of names and I haven't been fully cast yet. A crucial factor is that whoever plays me needs to be recognisable on a world-wide basis so it has to be a big name. Golf is such a huge global sport now that it's not just about getting a name that is known in Britain or the US - it's much broader. I'd love to give you some of the names that are in the frame but I'm afraid you'll have to be a little bit more patient. I can, however, categorically confirm that it won't be a resurrection of Frank Carson's career - despite the pleadings from several of my friends.
Sky Sports: Can you tell us if any golfers will be making cameo appearances?
JR: We should be able to get a number of golfers with cameo roles without making it too much of a celebrity spotting crusade. We're still hoping to get Sam Torrance obviously because he plays a pivotal role in the film script as he does in my book.
Sky Sports: And what about yourself? A Hitchock-style try and spot John Richardson moment at some point?
JR: Ha ha! Yes, originally I was just expecting to play a Hitchcock role and perhaps appear as a greenkeeper in the distance but we've now tweaked that a bit and I have a part in what I think will be a very funny sequence.
Sky Sports: Have you seen the script or the rough drafts? If so, does it stay faithful to the book or is it more a case of being based on the book?
JR: I'm delighted that they've kept me heavily involved along the way. The script was written by Farren Blackburn who is also directing the film. You can see a clip of him discussing it below. It's obviously based on the book but, as Farren says in the clip, there are greater highs and lower lows.
Sky Sports: What are the emotions there? Were you just happy to hand it over and let the filmmakers get on with it or have you had to fight feelings of getting precious about the original words you wrote?
JR: That's a great question. To a certain extent I was initially just ecstatic to get interest from a film company - any company! When I had more than one film company interested it changed my perspective a little and I realised that it was important to ensure the film was made in a way that I was happy with. I met with Mark Pegg (ex Eastenders actor and now film producer) and immediately hit it off. He's a huge golf fan and I immediately felt a strong sense of trust that he could create a great film with the project as well as a commercial success.
The emotions of reading the script for the first time are very peculiar. It's clearly based on the book but I think what Farren has done with it is brilliant. I didn't get hold of the script until 1.00 a.m. and didn't go to sleep until I'd finished it. And I felt really quite emotional by the end. In an odd way I was willing the "John" character to succeed as if I didn't actually know what was happening. The fact that I felt like that made me realise that I'd made the right decision.
Sky Sports: What is your all-time favourite golf movie?
JR: I'm not a big fan of the Caddyshack type of golf movie. For me the more mystical aspects of a film such as Stephen Pressfield's 'The Legend of Bagger Vance' hold more appeal. The one film that I wished would be great but really wasn't was the Ben Hogan biopic 'Follow the Sun'. Hopefully Mr Hogan (one of John's imaginary friends as readers of the book will know!) can have a better role in my film!
Sky Sports: You're an ambitious guy John so what are your hopes for 'Dream On' the movie?
JR: My ambitions for the project have certainly grown over the years. It now seems a long time since I sat with my 83 rejections for the book in my grubby and slightly desperate hands. Recently the huge success of the German edition of the book has made me realise that it's a pretty timeless story that really has a world-wide appeal. And when I stood in the Dream On offices at Elstree I suddenly realised how seriously Mark and Farren are taking the project. They have pulled together an incredibly experienced team and that gives me huge confidence. Farren recently directed the Christmas edition of Doctor Who and the reviews were gushing with praise. Matt Smith (Doctor Who) described it as "turned up to 12" and with a "slow burning, ethereal magic" so I'm extremely confident that Farren can create a beautiful movie with Dream On.
Sky Sports: And if Mark Kermode blasted it?
JR: He won't because it will be brilliant! I honestly think the script is great and am enormously excited to see how Farren takes it to the big screen. He's a huge talent and I know we're very lucky to have him involved.
Sky Sports: Finally John, will you be inviting your fellow Ulstermen Rory McIlroy and Darren Clarke to the premier given that both major winners actually play a part in your journey?
JR: Definitely. Northern Irish golf is taking over the universe! I think there's a chance we might allow GMac to come in too. He may not have won a major last year but who know what he'll manage next!
Sky Sports: Thanks John, and don't forget my invite :)
JR: That's a deal :-)