Derek Ernst shock win at Wells Fargo Championship hailed by Mark Roe
Mark Roe says Derek Ernst's remarkable Wells Fargo win will inspire young players around the world.
Last Updated: 06/05/13 10:14am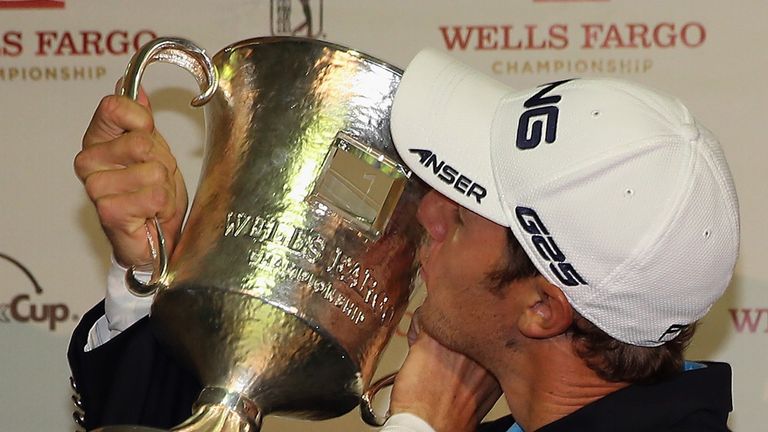 The American rookie was ranked 1,207 going into the Quail Hollow event but, despite Phil Mickelson, Lee Westwood and Rory McIlroy featuring at the top of the leaderboard on Sunday, Ernst emerged to defeat England's David Lynn in a play-off to take the title.
The 500/1 shot walked away with the $1.2m prize and a new legion of fans, which include Sky Sports pundit Roe who says the win will change the 22-year-old's life.
"Was that a life changing event? One million per cent," said Roe.
"He's gone from being a tour school player really struggling to find his feet on tour to having total exemption now for several years, money in the bank and comfort.
"And he looks like the type of player who's going to kick on from that, as well.
"There was no weakness there, the attitude was tremendous, his mental approach was fantastic - and it was a great lesson for everyone out there to keep the dream.
"It's a fantastic thing for every young player in the game to watch these things happen."
Focus
Over the weekend Ernst pointed to his ability to focus on one shot at a time as key to his success in North Carolina and Roe reckons that approach could take Ernst - who had missed the cut in six of eight events this season - far.
"It's been a miraculous week for him," said Roe.
"He couldn't possibly have expected it. But he was talking about staying in his process - which means playing one shot at a time - and that's exactly what he's done there.
"It's almost like listening to Tiger Woods say 'it's just another shot'. But he's a young man, 22 years old, and if you can stick to that clinical psychology it is a massive asset to have."
Blur
And Roe revealed Ernst's story is even more astounding, given the fact he has blurred vision in his right eye, due to a childhood accident.
"When he was at high school he was making a gift for his mother and part of the process involved plastic piping which fractured and shot up into his right eye," said Roe.
"He now has blurred vision because it never healed properly. So he's playing with obscured vision in his eye, which is incredible. But it's not affecting him!"