One of a kind
He's just won the Alps Tour Order of Merit and yet he chips one-handed. Meet Jason Palmer!
Last Updated: 25/10/13 2:46pm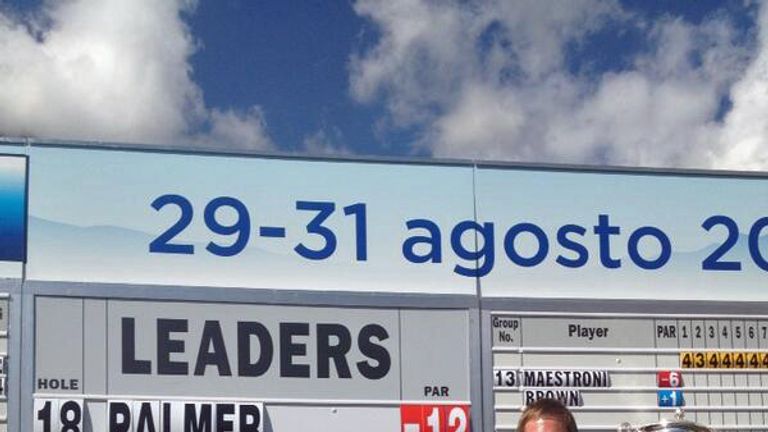 Two facts about the Alps Tour:
1) The Order of Merit was captured by a Leicestershire golfer who racked up three wins.
2) There's a guy on that tour who plays his chip shots and bunker shots one-handed.
Amazingly, they're the same person - Jason Palmer.
With Challenge Tour status secured, in 2014 Jason will be just one step away from the full European Tour.
Down the years on the PGA and European Tours, we've seen a plethora of weird and wonderful putting styles used in a bid to cure demons on the green but chipping one-handed is unheard of.
In this fascinating interview, Jason tells us why he's chosen to go his own way and why he has no intention of giving it up.
Sky Sports: Firstly, congratulations on winning the Alps Tour Order of Merit. Was that a realistic goal at the start of the season or has it come as a surprise?
JP: Thankyou. The goal at the start of the season was to play every event and try to finish in the top 5 for a Challenge Tour ranking. I knew this was achievable after I came second on the Alps Tour in 2010 but to bounce back and win the Order of Merit after a difficult couple of seasons possibly surpassed my expectations a little.
Sky Sports: Let's get the exact details. Which shots do you hit one-handed?
JP: Any chip or pitch from 40 yards and in. I used to play all greenside bunker shots one-handed too but now I probably go one-handed for bunker shots of 10 yards or less and two-handed for the others, it totally depends on the shot.
Sky Sports: Looking at your last few seasons, you were second on the Alps Tour in 2010, 87th on the Challenge Tour in 2011, 24th on the Alps Tour in 2012 and obviously the winner this year. Was it the two difficult years in 2011 and 2012 that caused you to go one-handed?
JP: No, not at all. My short game began to deteriorate at the back end of my amateur days and it was really quite comical, although I still experienced some success in the weeks when my long game was solid or I somehow managed to control my short-game anxiety. It was early on in the 2010 season on the Alps Tour that I fully committed to going one-handed around the greens.
Sky Sports: Players often play one-handed as a practice drill so, after hitting some good shots on the range, did you just decide one day to take it to the course?
JP: That is pretty much how it happened, yes. I remember practising at a tournament with my friend and roommate Neil Chaudhuri and I was extremely low about the demise of my short game and the devastating effect that it was having on my scores. I showed him just how foolish the situation was as I clipped a few towards the pin nonchalantly with just one hand. Between us we came to the conclusion that it's a results-based game and that at the end of the day you have to do whatever gets the ball in the hole. So it was then that I decided I would use the one-handed method in tournament play and see what happened.
Sky Sports: Did it work immediately or did it take a while to play well one-handedly in tournament conditions?
JP: I have to say that the results were instant. After going one-handed I enjoyed the best spell of form in my life to that point. I went from being terrified of missing a green or facing a pitch over any sort of trouble, to enjoying the challenge of it all. I felt like I had as a junior, a missed green became fun, an opportunity to show off my one-handed short game and get it up and down. My mindset completely changed on the course and all other aspects of my game improved due to the increased freedom I had on the course. In my next 11 events I had 9 top10's and my worst finish was 13th.
Sky Sports: What was the reaction of the other players and have any tried to copy you?
JP: I think at first people thought I was crazy! I have a joke and a laugh about it with my friends on tour as it really is quite unique. When I first changed I think the thing I found hardest was worrying about other people's perception of me and feeling quite silly. It was fine while I was playing well on the Alps Tour in 2010 as the results backed up my decision to switch but during my struggles on the Challenge Tour in 2011 and 2012 people inevitably looked at my chipping and questioned the method. That is difficult but I have become much stronger mentally and I know that, for me, it works. Nowadays I don't really care so much what other people are thinking, the only thing of any relevance are my results. I haven't seen anyone trying to copy me other than in practice to help rhythm. I'm always quick to tell the juniors at my club NOT to copy me!
Sky Sports: Do you actually have any stats to prove that your short game is better one-handed or is it just that you feel more comfortable doing it and that helps you feel better on the course?
JP: I actually don't partake in any in-depth statistical analysis other than the basic G.I.R, fairways hit and putts per round. I also like to keep an eye on my stroke average. But I don't have any specific stats on scrambling. Occasionally I will attempt a two-handed chip or pitch in practice to see how I'm feeling and it becomes pretty obvious that I would not be enjoying any success on the course if I was still persevering with both hands on the club around the greens. I can honestly top, thin, fat, shank and double hit! It's crazy. I'm sure many amateurs out there can relate to how I feel over the ball. I freeze, I throttle the club, my rhythm becomes quick and I cannot picture a way of getting the ball to its intended target. With one hand my posture is better, my grip is lighter, you have to feel the weight of the club in your hand and when striking the ball the bounce of the wedge comes in nicely. The difference is phenomenal. I feel far more comfortable and relaxed chipping one handed and as a result there is less pressure on every other aspect of my game. When your short game is debilitating you simply MUST hit the green, placing pressure on your iron play. So you also MUST be in the fairway to hit the green, putting pressure on the driving. And you MUST take your chances with the putter when you get them to make up for the disastrous double bogey around the corner! Going one-handed alleviates all of these problems for me.
Sky Sports: Do you feel it's just a quick fix for now and that you'd have to go conventional if you played on the European Tour?
JP: When I first changed back in 2010 I thought this would only be a quick fix. But here I am four years later and the feeling has still not returned with two hands. I have tried on numerous occasions to get both hands on the club but no matter how hard I try, my two-handed short game does not even compare to the touch and feel I have with my right hand alone. It's bizarre but I have accepted now that this will be the way I play the game. It doesn't really matter whether you have two hands on the club or one; if you can get it up and down all of the time then your short game is good enough for any tour. It would be amazing to get to The European Tour to see how my scrambling stats compared to some of the world's greats and ultimately that is where I want to play my golf.
Sky Sports: Has playing one-handed actually helped develop other parts of your game in terms of giving you better balance?
JP: I think I have developed my course management skills enormously as a result. There are certain shots that are awkward. I try never to leave 30-50 yard shots but sometimes this is unavoidable. I also try never to short side myself but I believe the same rules apply to everybody there. One thing it has helped is my mental toughness. At first it bothered me what others thought but now the only important thing is getting up and down.
Sky Sports: Before a round, do you let new playing partners/Pro-Am partners know that you hit one-handed or do you like to surprise them?!
JP: The Pro-Am is probably the most awkward time to be playing one-handed. In the professional tournament itself everyone is very much in their own world and my fellow players will not bother me with questions about my short game during a competitive round. But I do have to warn my Pro-Am partners what is about to happen, otherwise they may feel I am not taking the Pro-Am seriously! As long as I chip it close they don't seem to mind too much.
Sky Sports: Would you recommend it to others who struggle from 80 yards in?
JP: I think if you have hit rock bottom and nothing else is working then sure, why not? But there is a good reason why everybody chips and pitches with two hands and that is because obviously you have more control over the clubhead. But, for me, this is not the case. I think it's a classic case of the yips. It's more common in putting but it can affect a player's chipping too. If you believe you are struggling because of a mental block then going one-handed may be the answer you're looking for. I think I am able to do it effectively because I have good hand-eye co-ordination which probably stems from me playing tennis until I was 14. If it wasn't for me switching to one-handed around the greens there is no way I could compete as a professional golfer. It's amazing that such a radical change has allowed me to continue a career in the sport that I love.