Cool Hutsby stays ahead
Sam Hutsby remained the man to catch at The European Tour Qualifying School Final Stage after the fourth round.
Last Updated: 13/12/11 6:56pm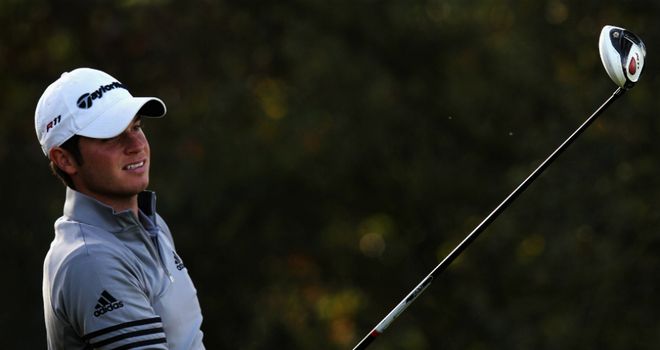 Sam Hutsby remained the man to catch at The European Tour Qualifying School Final Stage after carding a one-under-par 71 in the fourth round at PGA Catalunya Resort, in Spain.
The Englishman, who was runner-up here in 2009, moved to 16-under-par to lead by two from compatriot Andy Sullivan, and is on course for a return to the highest level, having played last season on the Challenge Tour after losing his European Tour card by one place in The 2010 Race to Dubai.
South African Branden Grace, England's David Dixon and Frenchman Victor Riu share third place on 13-under-par as 70 players made the cut to play the final two rounds.
On another day of perfect conditions in northern Spain, Hutsby made a fine start with birdies at the first, third and fourth holes on the Stadium Course before bogeys at the sixth and tenth halted his progress. He picked up shots at the 12th and 15th, but two bogeys in his last three holes gave him a frustrating finish.
"I got off to a great start and so did Andy [Sullivan], so we were bouncing off each other early on," said the 23-year-old. "It looked like we were going to run away with it, which would have been nice. But there were some tough flags out there today, and I got a bit greedy on the sixth hole and ended up paying the price.
"It's disappointing not to have broken 70 again, because my goal was to shoot six rounds in the 60s. But I'm still in a great position, so if I can smooth out some of the rougher edges and cut out the silly mistakes, I should be there or thereabouts at the end.
Battle
"I'm enjoying my battle with Andy. He was really making me work hard for my lead at the start. He hardly put a foot wrong at the start of the day, although we both hit a few wayward drives coming home. It's been a long week already so fatigue may have played a part, but the last few holes are pretty tough."
Like Hutsby in 2009, Sullivan represented Great Britain and Ireland in the Walker Cup this year, turning professional shortly after starring in the victory over the United States at Royal Aberdeen Golf Club in September.
He also endured a disappointing finish with a double-bogey six at the 18th, and said: "I got off to a flying start again, three under through three, then just stuttered a bit with a couple of poor drives. But I got it back again with a good fight back. I was happy with that.
"Then on the last a poor drive meant I dropped two shots but I'm in a great position going into the last two days, so there are loads of positives.
"I'm enjoying pro life at the moment and this week. Playing with Sam, who I know pretty well, has been really enjoyable. I think we are driving each other on a little bit - not that I'm paying too much attention to his game - but we are keeping each other going.
"I've not put any pressure on myself this week. I definitely haven't set myself any expectations. I just want to go out there and give it my best shot and see where I finish. It is tough. A normal tournament is four rounds so we'd be finished by now. Physically it's quite tiring, but you just have to keep going."
It was another solid day for Grace, who played on The European Tour in 2009 before losing his card. The 23-year-old had four birdies and two bogeys, but was disappointed not to make more progress.
"I'm feeling very good about my game but it was also a bit frustrating today, because the putts just didn't want to drop," he said. "My putt on the last summed it up really - I just missed a birdie putt from about eight feet, which was about the fourth missed putt from that range in the last six holes.
"You need a positive frame of mind - if you just try to hold your position and get a bit negative, you can come unstuck. I can make life much easier with a good round tomorrow, and I feel like I'm close to going pretty low."
Exhausted
Frenchman Guillaume Cambis, who was joint winner at Costa Ballena in last week's Second Stage, is one of five players at 12 under.
"I'm really, really exhausted," Cambis said. "It has been a two long weeks. It's my first time here so I'm happy to be up there, but it could have been better. I want to finish in the top ten this week, so if I play well I can do it. I need to concentrate for the 36 holes now because I'm really tired."
The highlight of the day came from Knut Borsheim who, remarkably, had a hole-in-one for the second day running. The Norwegian aced the 205-yard 14th on the Tour Course on Monday with a five iron, and used the same club to ace the 206-yard 16th on the Stadium Course 24 hours later. He is the first player to have two hole-in-ones in the same Qualifying School Final Stage.
The four-under-par cut mark is the lowest 72-hole cut in the history of the Qualifying School. Last year's Final Stage winner Simon Wakefield missed out, as did three-time European Tour champion Nick Dougherty. Jamie Elson had the best round of the day - a seven under par 63 on the Tour Course to reach six-under-par overall.