Anxious wait for Harrington
Padraig Harrington insists he would "love to be there" as he waits to see if he is selected for the Ryder Cup.
Last Updated: 28/08/12 9:40pm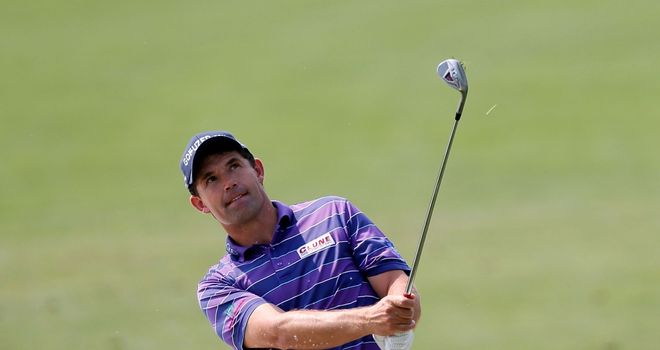 Padraig Harrington insists he would "love to be there" as he waits to see if he has done enough to claim a place in Jose Maria Olazabal's Ryder Cup side.
Harrington has been part of every Ryder Cup since his 1999 debut - and has three majors under his belt - but he has been left needing a wildcard if he is to take part in September's event in Chicago.
However Nicolas Colsaerts, who has made the cut in only two majors and never played in the Ryder Cup, and Ian Poulter appear to be favourites to be Olazabal's two picks when they are announced on Monday.
Olazabal said last Thursday that not even a win in the first of the FedEx Cup play-off events in America would guarantee Harrington a spot.
The Dubliner led at the time, but then came two 75s and after finishing 19th he hardly exuded confidence in New York.
"When you're out of sight away from home it looks like I've played poorly day two and three," Harrington said.
"Two 75s on the card doesn't look very good when you're trying to show form, but I'm playing well.
"What more can I do? I'm happy with that any way - I'd rather be playing badly and picked, but I'm happy that I'm playing well.
"I don't want to give an opinion on not making it or anything like that until it officially happens.
"I've won four out of six (Ryder Cups), I'd dearly love to be there."
Much has been made of Harrington's relationship with Olazabal, soured by a spat at the 2003 Seve Trophy, but the Irishman does not believe that will play any part now.
"The one thing I don't think anyone could accuse Jose of is not being competitive," he said.
Relationship
"I've got a better relationship than you think with him, but even if I had no relationship I think he'd still want to pick the 12 best guys."
Colsaerts would have knocked Martin Kaymer out of an automatic spot - and improved Harrington's hopes of a pick - with a closing 66 in the Johnnie Walker Championship at Gleneagles.
A 72 left him only 19th rather than the second place he needed, but he had not changed his mind about where he stood.
Asked who he saw it between for the two wild cards the Volvo World Match Play champion replied bluntly: "I see Poulter and myself.
"I think I've done everything I could to put myself in this position.
"It's been a long summer. I've only taken one week off in the last nine weeks.
"It was difficult to play the tournament just like any other one. There was always somebody to bring the Ryder Cup subject up."
Poulter and Colsaerts finished 11th and 12th in the points race, whereas Harrington was down in 19th position.
Colsaerts is also Europe's biggest hitter and Olazabal appears to have placed the importance of that above the need for more experience.
Down at 1,305th in the world only three years ago, it would complete a meteoric climb if he was selected now.
Poulter, meanwhile, said after he came 36th in the States: "I'm feeling fairly relaxed about the situation.
"Obviously it's not done until it's done but I won't lose any sleep tonight.
"Hand on heart I've not been told anything. That would be disrespectful to everybody else and that would never be the case. Olazabal's a true professional.
"I would presume I'll get a call at some point. I'm sure he'll call me before announcing the selection."