Ian Poulter uses positive mindset to make bright start at US Open
By Keith Jackson
Last Updated: 15/06/18 1:38am
Ian Poulter revealed a change of mindset worked wonders as he defied a brutally-difficult Shinnecock Hills course to fire an opening 69 at the US Open.
With scores soaring on the first day at the historic New York venue, only Poulter and Scott Piercy from the early starters managed to break the par of 70 as the Englishman carded three birdies and dropped only two shots.
Poulter made a bright start when he rolled in a huge 45-foot putt for birdie at the third, and he holed another from half that range at the seventh before a poor second to the 10th resulted in his first bogey.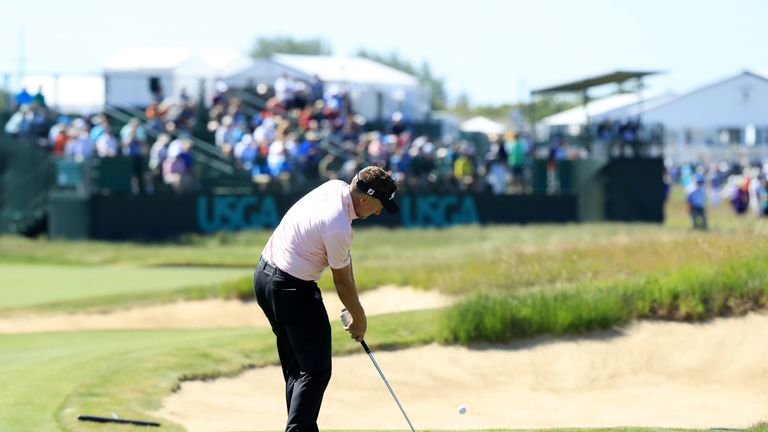 But he responded in style and came agonisingly close to a hole-in-one when his ball hit the pin at the short 11th, although he got into trouble at the 13th and did well to escape with just a bogey before he parred safely in to share the early clubhouse lead.
Poulter admitted he struggled to enjoy his first US Open appearance at Shinnecock Hills in 2004, and that he has not enjoyed many since, but he arrived with a far more positive attitude this week.
"I have to say, through most of the US Opens, I haven't enjoyed very many, to be honest," he said. "They're difficult, they're hot and they're stressful, and it feels like you're pulling teeth every single hole you play. How I've got any left, I don't really know. They always set out very difficult, but it's supposed to be tough.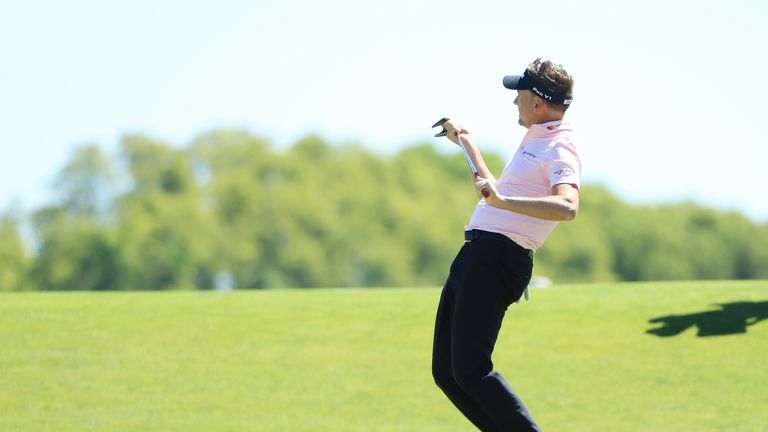 "But this week I've changed my mindset. I'm here to enjoy my golf this week, to play freely, to go out and just play golf. If I hit it in the rough, I hit it in the rough. I'm going to try and make par the hard way and just don't get too bogged down with it.
"It's difficult, but it's difficult for everyone. Today is just a good day, and I've got three tough days left. I played exceptionally well, and I played the par-threes well. I made two at the seventh and obviously another two on 11. So to get through those two very tricky par-threes in four shots is well ahead of the game.
"And scrambling when you are out of position on this golf course is also key, and I did that well. So I limited the mistakes.
"My game is good. I feel confident, I feel happy, I feel happy off the golf course, and it makes that a lot easier on the golf course. So I'm in a really good, good place, but I don't want to get carried away."
Meanwhile, Poulter's close friend Justin Rose was happy to get off the course despite making an encouraging start, a one-over 71 leaving him just two strokes behind Poulter and Piercy.
Rose got under the card for the day when he converted a nice pitch to eight feet for his second birdie of the round at the 10th, although he had to scramble hard down the stretch and was unable to avoid blemishes at the 11th and 14th.
"I was very happy to get the round out of the way this morning," said Rose as he predicted tougher conditions for the late starters. "I'm aware of the big picture of this tournament, and I think I knew what today was all about. It was about hanging in there. "If I'd shot a 72 or 73, it would be a good day's work as well. So today is about eliminating a bad round, and I think it's turned into a really positive start. I just worked hard out there to make sure nothing slipped away.
"I definitely hit my share of poor shots at times, but I was able to make a couple of great up and downs when I needed to just to keep the momentum going. But I also feel like there were moments in my round when I could have made some mid-range putts to really have a great day."