Laura Collett has revealed that Kauto Star is adapting well to dressage
Laura Collett has revealed that Kauto Star is adapting well to his new discipline as he learns the ropes in dressage.
Last Updated: 20/01/13 1:57pm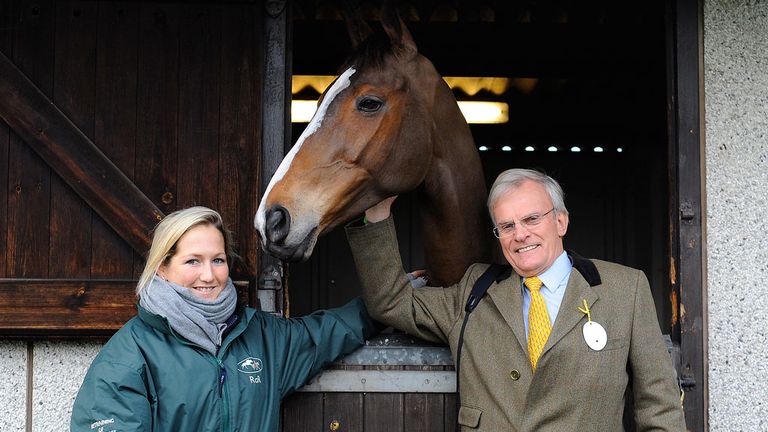 Owner Clive Smith opted to send the multiple Grade One winning chaser to Collett last month in a move that caused waves throughout the racing community.
Smith revealed the idea behind the move was to keep Kauto Star's body and brain active in retirement and Collett, one of the country's leading eventers, is delighted with the progress that he has made in such a short space of time.
"Better progress than anyone could realistically have thought," she said, highlighting his intelligence and calm temperament as key reasons behind this.
"People trying to belittle the dressage discipline are very small-minded," she added.
"Yes, it's very different to racing but if the horse is happy, why shouldn't he have the chance to do something else? Otherwise, he would be bored."
"Horses are very quick at telling you if they don't want to do something. There's no way of making them do anything they don't want.
"He's definitely taken to this challenge, willing to work with you and not against you. When he's worked something out, he doesn't forget it.
"What he's found hardest and what's going to take him longest is how to do a steady canter because he's only ever known gallops.
"He's getting there but finds it quite hard to hold it because the muscles he uses most in dressage are not those needed to stretch himself in racing."
Collett told The Daily Telegraph that Kauto Star will not perform in public
unless everyone is absolutely convinced he is ready.
"If I felt he couldn't do himself proud, I wouldn't want to take him out. Because of who he is, he deserves that," adding, "He's a bit special, isn't he?"